The Winter Footwear Walk
The perfect snowy day walk – an event for which the Friends have long hoped.  We've been foiled by no snow, too much snow, too much ice, and unplowed parking lots, but we're not giving up, especially this year.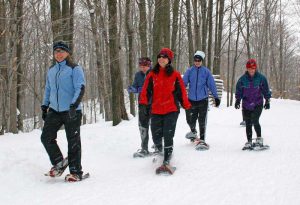 The Delaware Canal State Park has acquired more winter footgear that can be lent at no charge to the adventurous.  Ten pairs of snowshoes in assorted adult sizes and three pairs in kids' size are ready to meet the snow-covered towpath, and the Park now has fifteen pairs of micro spikes in adult sizes for icy conditions.
No matter what kind of footgear is required, including plain old boots, the Friends will be walking (or trodding) along the scenic Delaware Canal towpath between the villages of Point Pleasant and Lumberville on February 18.   Park Educator Katie Martens and Susan Taylor will guide the 3-mile roundtrip hike.   We might catch glimpses of bald eagles and waterfowl along the way, and there is no shortage of history about the two villages, much less the intriguing Devil's Half Acre that lies midway.   Our outing will end with hot chocolate and homemade cookies.
If you would like to borrow snowshoes or micro-spikes from the Park, please reserve your footgear in advance by calling 215-862-2021 or e-mailing friends@fodc.org.   The equipment will be available on a first-come, first served basis.   You are more than welcome to participate wearing your own footgear.
The Winter Footgear Walk is free and will be held conditions permitting.  Check on the homepage of www.fodc.org for a Go/No Go message that will be posted by 8 a.m. on February 18.
Meet in the parking lot across from the former Mountainside Inn in Point Pleasant.  The Google Map address is 4728 River Road, New Hope, PA 18938