Hike Out the 20-Teens
Want to get started on your New Year's Resolution early? Then join us as "Walk Out the Old Year" with an invigorating 4-mile, round-trip trek between the Virginia Forrest Recreation Area and the village of Lumberville.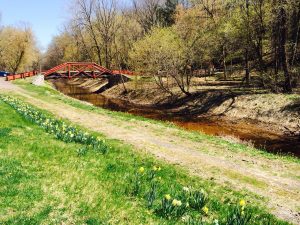 The Recreation Area and nearby Hendrick Island are now a quiet spots, but, before the 1955 flood, they were abuzz with activity.  There was a gas station on River Road, and a substantial home stood between the Canal and the River.  Through the years, the artist Edward Redfield, King Faruok of Egypt, and a nuclear power plant all played parts in the story here.  In canal days, the Cake and Beer House served refreshments to boatmen here, although it isn't clear just where it was.
As we head north, we'll pass the Delaware Quarries, a thriving business today that has a long history.  During the canal era, stone from the quarry was loaded onto mule-drawn boats bound for Philadelphia and New York.
Next along the way will be the scenic Cuttalossa Creek, which in the 18th and 19th centuries was anything but.  Mills and other industrial enterprises were situated along the waterway and at its mouth sat an inn with a very colorful history, including a raid by the infamous Doane outlaws.
Our destination will be the village of Lumberville.  Timber defined its past and still plays an important role.  Fascinating, accomplished people found and find the village to be an excellent place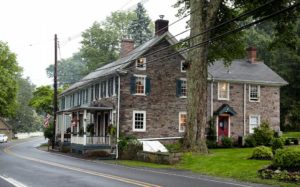 to live.
Here in Lumberville, we'll find lunch.  Walkers may choose to have lunch on their own at either the Black Bass Hotel or the recently reopened Lumberville General Store.  The third option is burn more calories by walking directly back to the Virginia Forrest Recreation area.  Whether done before or after having lunch, the walk back is an easy one.  (No one has ever gotten lost on the towpath.)
The hike will be held unless it's raining or snowing.   If in doubt, check for a go/no go message on the www.fodc.org homepage.