The Friends of the Delaware Canal have been working to restore, preserve and advocate for the Delaware Canal, the towpath and its surroundings for 40 years.
The Friends of the Delaware Canal began as a modest group of volunteers who realized the Canal needed help and that's what they did. Over the years, the original group of 50 has grown to include residents all along the 58.9 stretch of the canal.
Our 40th Anniversary Video highlights the importance of this historic and recreational local resource.
Watch it now.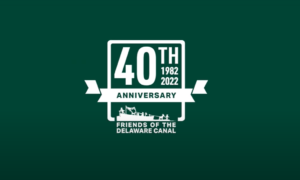 The support of our members and friends has made so much possible.
The Delaware Canal Master Plan, commissioned by the Friends in 1985, resulted in a $30 million investment in the Park by the Commonwealth of PA.
IN 1991, FODC raised $100,000 during our "Pledge for the Dredge" to purchase a long-arm track excavator to clear stifling silt from the Canal waterway.
The Friends have restored four of the six remaining camelback bridges using private donations, at a cost of more than $250,000.
We advocated for a Canal museum and helped restore the Locktender's House in New Hope transforming it into the Park's first Visitors' Center completed in 2002.
Development and introduction of the Loop Trails along with numerous Canal and towpath restoration and maintenance projects.
Education and awareness have driven the Friends to enlighten and inform our neighbors through our Canal walks and paddles, presentations, interpretative signs and more. We have been so grateful to have the support of our community, a community that values this unique asset.
Help us continue to protect the the rich legacy and natural beauty of the Delaware Canal.