Breaking News & Updates
Towpath Closed at Lower Limeport Bridge in Solebury Twp.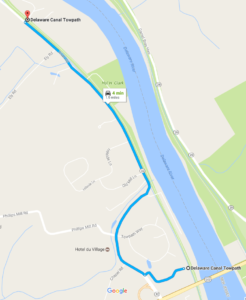 **TRAIL CLOSURE** A portion of the towpath will be closed due to construction surrounding a bridge replacement project at Lower Limeport Bridge. The closed portion is in Solebury Township between Upper Limeport Bridge and Phillips Mill Bridge, approximately 0.25 miles north of Phillips Mill. Please heed the barricades and avoid this area, or find alternate routes. Do not trespass on private property to bypass this area. For bicyclists, this section can easily be bypassed by following River Road (Route 32) for a short distance by exiting and/or entering the towpath at Upper Limeport Bridge and Canal Park in Solebury Township. Please DO NOT enter the construction zone AT ANY TIME, regardless of whether it is active or not, for your safety and that of the workers and equipment. Park officials expect the tow path to re-open by the end of April 2017.
If you have any questions or need additional information about the trail closure please feel free to contact us at the park office.
PA Department of Conservation and Natural Resources
Delaware Canal and Ralph Stover State Parks
11 Lodi Hill Road, Upper Black Eddy, PA 18972
Phone: 610.982.5560 | Fax: 610.982.0160
E-mail: nrspdela@pa.gov
Stone Wall Repair and Woody's Bridge Restoration Progressing Well
December 23, 2016
The masonry work on the berm bank stone wall at Lehnenberg Road and the restoration of Woody's Camelback Bridge are progressing well.   Winter isn't holding the contractors back!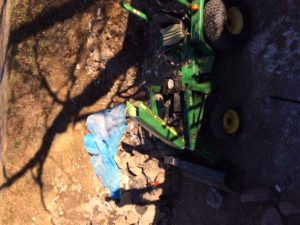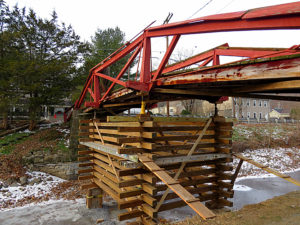 Stone Wall Repair Started
December 13, 2016
Moyer Construction has started to rebuild the partially collapsed stone berm bank wall near the intersection of Route 611 and Lehnenberg Road south of Easton.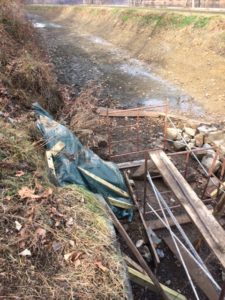 Sinkhole Repairs Underway
Friday, November 18
Repairs of what we hope are the last of the northern sinkholes are underway.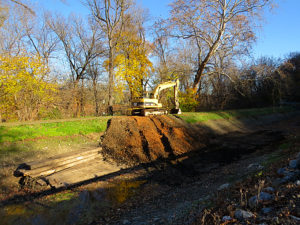 More Sinkholes to Repair
Wednesday, November 9
Several additional sinkholes were discovered in canal prism between Raubsville and Easton.  The state engineers and Bi-State Construction have investigated.  They will be fixed, but rewatering of the Canal will be delayed a few weeks.
Northern Wall Repairs Completed
October 21, 2016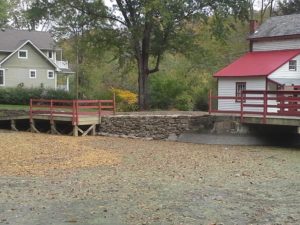 The masons have finished repairing the stone walls at Woody's Camelback Bridge south of Easton and at Groundhog Lock in Raubsville.  The gate that allows Lehigh River water to flow into the Canal has been opened a bit so that the Easton to Groundhog Lock section can be watered.
Repairs continue on the holes in the prism  near Mueller's Store and at Lock 20.
Centre Bridge Pump Re-Started
October 11, 2016
The Park Staff turned the Centre Bridge pump back on this morning.   It is anticipated that the water will make its way through the pipes at the Lower Limeport Bridge project and to Lock 11 in New Hope by Friday.
Canal Drawdown Begins on Monday, Sept. 26
Water level in the Canal will be lowered in several areas of Delaware Canal State Park beginning on Monday, September 26. The drawdown will allow for preventive maintenance, inspections and several small repair projects. Large stretches of the Canal will have low water levels until work is completed. It is anticipated that rewatering will begin on November 1.
Areas affected will include:
Raubsville: Smith's Bridge (Woody's Bridge)
Raubsville: Lock 22/23 (Groundhog Lock)
Solebury Township: Lower Limeport Bridge
Solebury Township: Bowman's Hill
Yardley Borough: Lock 5
Bristol Township: Airport Road
The full text of the announcement from Joshua S. Swartley, Park Manager, is below:
Delaware Canal State Park is planning for a maintenance drawdown of the canal beginning on September 26, 2016. The canal will be drawn down in multiple sections of the park to perform preventative maintenance, inspections, and to complete several small repair projects.

Work associated with this drawdown will take place at Smith's Bridge (Woody's Bridge) in the Raubsville area, Lock 22/23 (Groundhog Lock) in the Raubsville area, Lower Limeport Bridge in the Solebury Township area, the Bowman's Hill area, the Lock 5 area in Yardley Borough, and in the Airport Road area of Bristol Township.

Due to this drawdown and the low river levels in New Hope, large stretches of the canal will have low water levels until work is completed. It is anticipated that the canal will be re-watered in the beginning of November. Sections of the canal from New Hope south are dependent on higher river levels for re-watering and may take longer to refill. Currently, water levels in the southern portion of the canal are extremely low and in some areas non-existent due to the lack of water at the New Hope inlet.

Drawdown of the canal must take place between July 15th and October 1st, due to the regulations established by the Pennsylvania Fish and Boat Commission to protect the imperiled eastern redbelly turtle. During the drawdown period, park staff will be on site to remove and relocate any turtles, fish, and other species of concern to a safe location should they become stranded in a section of the canal with low water.

If you have any questions or would like additional information about the planned drawdown of the canal please contact the park office for assistance.

Sincerely.

Joshua S. Swartley
Park Manager
Two Sinkholes Plus
The number of sinkholes in the Point Pleasant area multiplied.  Bi-State Construction is finished filling in five of the six sinkholes between Bridges 2 and 3 in Point Pleasant. After completing the sixth, they will move south of the Mountainside Inn and take care of a few there.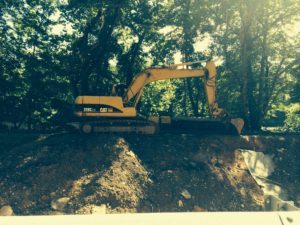 Save
Save
Save
Save
The Tale of Two Sinkholes
August 1, 2016
Two significant sinkholes developed  between Bridge 2 and Bridge 3 north of Point Pleasant this weekend.  (This is a notoriously unstable area.)  Tomorrow, August 2nd, the Park staff will be draining down the Canal section by opening the waste gate at Bridge 4 in Smithtown and the waste  gate at Mountainside Inn in Point Pleasant.   Fish rescues will be conducted if needed.
Bi-State Construction will arrive next  Monday, August 8th to repair the holes.  The project is anticipated to take two days.
We commend DCNR for jumping right on the repair.