Friends History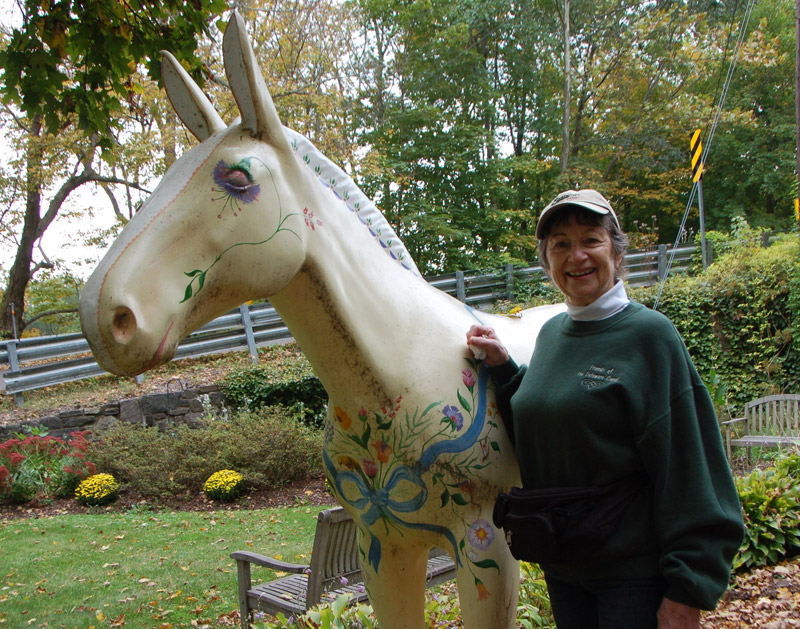 The following is a first-person account of the founding of the Friends of the Delaware Canal by its founder, Betty Orlemann.
In 1977, my husband, three kids and I moved to an old farmhouse on River Road in Tinicum Township, Bucks County, Pennsylvania. One of the things that had attracted me the most about the three-acre property was that it ran beside the Delaware Canal.
That fact, however, proved to be a detriment more often than I want to remember, because the canal water was frequently lowered. A smelly, muddy ditch, which is what the canal actually became at those times, has no real appeal.
I discovered that the water level was controlled by the superintendent of what was then called Theodore Roosevelt State Park. In 1933, Governor Pinchot named it for former United States President Theodore Roosevelt…who, incidentally, had never been to the canal.
I made an appointment with the superintendent and paid him a visit in his office in the State Park headquarters at Lodi, now Upper Black Eddy.
The supervisor was a pleasant young man named Gene Giza, and he took his job very seriously. He explained that when his crew was working on the canal, the water had to be lowered. I learned that most of the canal's water came from the Lehigh River in Easton, and the amount of water carried into the canal from its tributaries was negligible. This is true except on the lower end, which does not empty when the upper end does because there is a tributary in New Hope that contributes to the canal.
Giza told me of many problems controlling the canal's water level. For example, if there was a bad storm, the waste gates had to be opened, letting the water flow into the river to prevent the canal from flooding. If the storm would end on a Friday night, then, the canal would remain dry all weekend, because the workmen wouldn't return to close the gates until Monday.
The superintendent also explained that there were many necessary and expensive repairs to be made in and along the canal, and his budget could not pay for them. Therefore, money had to come from State Park Headquarters in Harrisburg through the Regional office in Quakertown. Due to bureaucratic machinations, this money was frequently not available for long periods of time. He took me on a tour of the entire canal to emphasize the reality of these problems.
"Something has to be done!" I exclaimed. And something would be.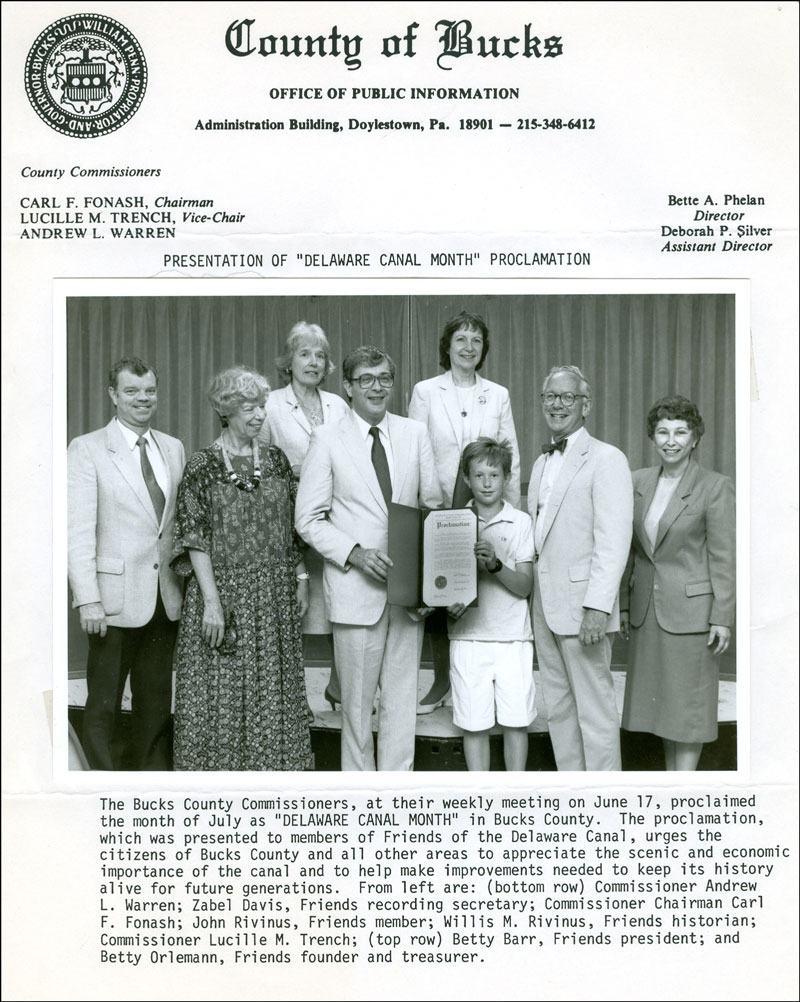 An organization called The Delaware Valley Protective Association (DVPA) had been founded in 1933, after the canal boats had stopped running. The group was spurred to protect the canal, which was already falling into ruin, as an historic asset. The organization had helped persuade the state to take over most of the old waterway in 1940, and later it once again began to carry water.
By 1978, when I met with the canal superintendent, many DVPA members were getting on in age, and many had died. However, three of its members—Virginia Forrest, Hal Clark and C.P. (Bill) Yoder—were instrumental in having the canal designated a National Heritage Corridor that year. I attended the dedication ceremony in New Hope, and that's when I met Virginia Forrest.
Virginia was a remarkable woman who lived in Solebury, and who had many connections. She had started a group called The Bucks County Conservation Alliance, which met monthly for lunch and speakers at a Doylestown restaurant.
I was faithful in attending these meetings and learned a lot. I read a lot about the canal, spent time at the Lodi headquarters, and met some fascinating people who had vast canal knowledge. Among them were brothers Frank and Howard Swope. These two brothers had both been canal boatmen, starting out when they were still children. All these people and the information about the canal's history got me interested in and excited about helping to preserve this precious historical treasure.
I began to look around and saw so many things that needed to be done: Bridges needed painting. Rock walls that had fallen into the canal had to be replaced. There was an abundance of just plain junk in the canal water itself that needed to be pulled out and properly disposed of. By 1982, I decided to do something about it.
I told Virginia about my idea to get family, friends and neighbors together to clean up and repair the waterway. She said, "Why don't you start an organization to protect the canal?"
"I don't know how," I replied.
"My dear," Virginia Forrest, veteran of getting things done, said sternly, "Simply do it!"
She kicked into gear, marshaling her considerable resources to help us get started. She phoned Florence Schaffhausen, who wrote a column about our efforts in the Doylestown Intelligencer newspaper. Florence sent Rudy Millarg, a photographer for the paper, out to my house. He took pictures and ran them as a photo essay, entitled "Tinicum Woman Starts Canal Organization."
Taking my cue from Virginia, I organized friends, neighbors and family members. We went out and painted those bridges, took boats into the canal and pulled out debris, and repaired stone walls. That activity brought out more newspaper photographers and reporters, and we received lots of positive attention.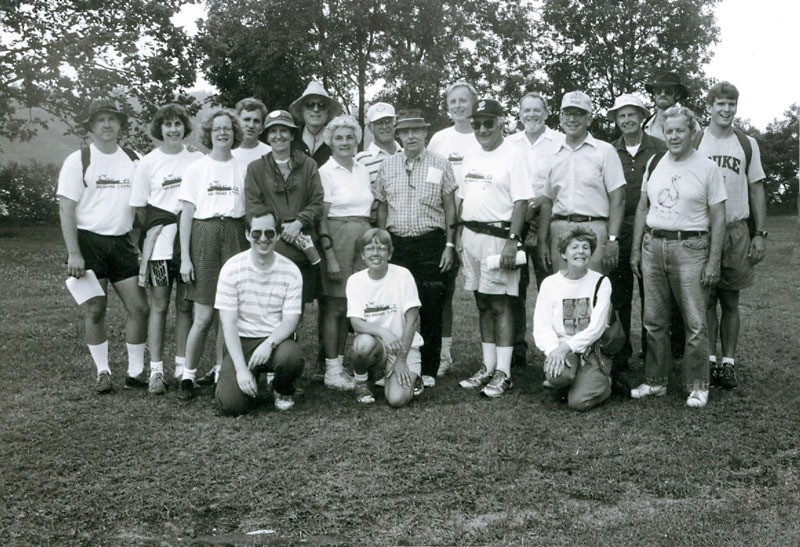 Next, we planned a meeting of the new group, which we called the Friends of the Delaware Canal. I called Paul Licitra, who owned the historic Towpath House Restaurant in New Hope, telling him we needed a place to meet. He let us hold our first meeting there on a Tuesday night in October, 1982 when he was not open to the public. To commemorate the event, George Schweickhardt, owner of the mule-drawn Barge Company in New Hope, offered a boat to carry people to the restaurant. Despite a heavy rain, 30 people showed up.
Virginia Forrest was there and became our first official member. Jim Greenwood also came, and was the first of many subsequent public officials to offer help to the ailing canal. Also in attendance was poet/sculptor Raymond Granville Barger, who read a poem dedicated to the Friends of the Delaware Canal. Congressman Peter Kostmayer came, and so did Superintendent Giza and Lance Metz, the Easton Canal Museum's historian.
I was elected the first President of the Friends. Thanks to Doylestown attorney John Toner, who offered us his services gratis, the Friends of the Delaware Canal was incorporated in January of 1983. More than 30 after the founding, I sit on the Advisory Board and am tremendously proud of the work that our group, with such humble roots, continues to do on behalf of the canal.