Doing Business on the Morris Canal
Program
To get to the New York markets, a canal boatman had two choices – use the Delaware and Raritan Canal to get to the Raritan River or travel on the Morris Canal to New York Harbor.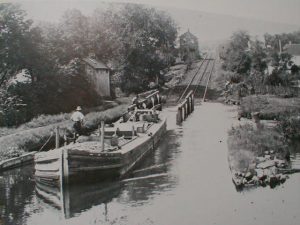 As Delaware Canallers, we're familiar with our nearby sister canal, the D&R, but less so with our connector canal to the north. To enlighten us about the intriguing history and technology of the Morris Canal will be Joe Macasek, President of the Canal Society of New Jersey.
The Morris Canal crossed northern New Jersey connecting New York Harbor with the Delaware River at Phillipsburg, NJ. Completed in 1831, this 102-mile-long canal overcame an elevation change of over 900 feet. To do so, water-driven inclined planes were utilized along the route.
Using photographs and documents from the Canal Society's archives, Mr. Macasek will tell how the inclined planes operated, how tolls were collected, and the workers' rates of pay.  He will also explain why hinge boats were the vessels of choice on the Delaware Canal.
A uniquely qualified presenter, Joe Macasek is the author of Guide to the Morris Canal in Morris County, former President of the Roebling Chapter of the Society for Industrial Archeology, and a member of many of the entities working on the transformation of the waterway's route into the Morris Canal Greenway.
Come expand your canalling knowledge.
This event will take place at Riegelsville Borough Hall, 1st Floor Meeting Room, 615 Easton Road (Route 611), Riegelsville, Pa 18977.