Bristol Lunch & Walk – RESERVATIONS ARE LIMITED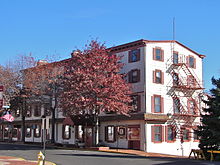 This walk has filled-up quickly.  We have a few spaces remaining.  Please email the Friends at friends@fodc.org to check availability.
Discover Bristol Borough's rich canal history as we follow a series of interpretive signs from Mile 0 at the Delaware River to the scenic Lagoon by the Grundy Mill.
On this guided walking tour, we'll find out about this pioneering industrial area. Our walk to the River will be via Radcliffe Street, the loveliest street in town where we will stop for lunch at the historic King George II Inn.
Founded in 1681, the King George II Inn (above) has been serving the community and travelers here since before the American Revolution. They have a reputation for exceptional food and drink presented in this beautifully maintained historic building.
The cost is $40 per person and is limited to 25 people. Reservations are required. Please email the Friends for availability.