Washington Crossing Lunch and Walk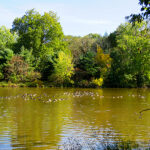 The Friends are pleased to offer an early summer Lunch and Walk in Washington Crossing.
Our tour will begin with a short walk up the Delaware Canal towpath to get a good view of the adjacent lagoon. What critters will be out and about?  Then we'll head east and find out about the village that was once Taylorsville, but now is known as Washington Crossing.
By the landmark McKonkey's Tavern and Mahlon Taylor House, we'll venture onto the Delaware River bridge that connects Washington Crossing, Pennsylvania with Washington Crossing, New Jersey.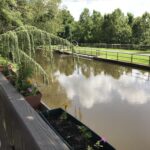 In New Jersey, we'll hike a bit north on the Delaware and Raritan Canal towpath, our sister canal across the river.  We will then enjoy a canal-side deck lunch at the Patriot Restaurant.
Tickets are $35.00 per person.
To reserve your spot and purchase a ticket, please fill out the event form below.
Make Reservations for Lunch & Walk – Patriot's Crossing