Faces and Places – New Hope and The Canal
To our Sponsors, Patrons and everyone who attended the event, thank you!
Special Thanks to Our Sponsors….
Please join the Friends during our 40th Anniversary, for a tour that will take you back to the early days on the Canal and how one town continues to be a focal point for visitors to the park.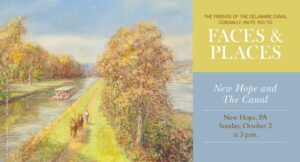 This year's Faces & Places activities and festivities will center around New Hope, the Canal, and the artist and environmentalist, William Francis Taylor. We will gather at the Locktender's House and our tour will include:
• The Locktender's House at Lock 11: Take a step back in time as you enter the Locktender's House and discover what life was like on the Canal. Making a living as a locktender included long hours and many perils with rushing water and tight spaces. The sound of the conch shell signaled it was time to spring into action, "locking through" the Canal boat so it could continue its journey.
• Rediscovering the Towpath—William Taylor and the Delaware Canal: Experience the new exhibit located in the retired mule-drawn Canal BoatRide concession building at Lock 11. The exhibit focuses on local painter and preservationist William Francis Taylor and the Delaware Canal. Taylor was instrumental in founding the Delaware Valley Protective Association, the precursor of the Friends of the Delaware Canal. The Towpath magazine, a publication of the Association, was very popular and helped spread the word about the Canal and the beauty of the Delaware Valley.
• The Parry Mansion: Tour the mansion and learn about Benjamin Parry and his family. Hear about the Parry Mill and how the town of New Hope got its name.
We will end the day with drinks, dinner, and fun at Oldestone, a unique restaurant in a historic 150-year-old setting.  Enjoy a special preview of our 40th Anniversary video as well.