Canal Clean-Up Day
Mark Your Calendars
All 58.9 miles of the Delaware Canal are ready for the Friends' annual spring cleaning on April 4, 2020. Even though we always opt for water in the Canal, this year's lack of water in stretches can be an advantage for cleaning purposes.  All the better to get to the trash that is usually underwater or out of reach.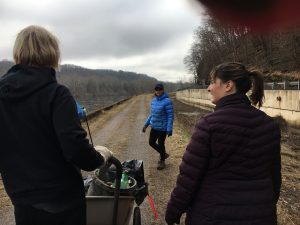 Holding with tradition, the Canal will be divided into approximately 25 Work Areas, and volunteer coordinators will handle the logistics for each of the areas. Both on-land and by-boat clean-ups are encouraged.
If you have questions or would like to volunteer either as a worker or as a community coordinator, please call 215-862-2021 or e-mail friends@fodc.org.  If you know of a group (civic, school, office, scout…) that may be able to participate, let us know.
The Clean-Up Day Work Areas will be listed in the spring issue of Canal News, included in Events on www.fodc.org, posted on the Friends of the Delaware Canal Facebook page, and sent out to our e-mail contact list.
Last year more than 320 volunteers helped out with Canal Clean-Up efforts.  This year, let's try for 350.  Many hands make light work — and more fun.