Towpath Closed from the north end of Lumberville to the south end of Point Pleasant
July 16, 2019
The towpath has been closed from Mile 31 on the north end of Lumberville to Mile 32.3 on the south end of Point Pleasant. The closure is due to repair work being done on the stone wall between the Delaware River and the Canal.
Water is Flowing Again in the North
June 19, 2019
Centre Bridge Pump has been Restarted
Wednesday, May 1, 2019
The State Park maintenance staff turned on the pump at Centre Bridge late this morning.  The rewatering of the Canal from Centre Bridge to Lock 11 in New Hope has begun.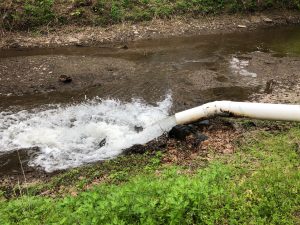 Water Level in the North Lowered
April 15, 2019
The water level in the north end of the Canal has been lowered to facilitate the repair of a sinkhole at Lock 20 south of Kintnersville.
Towpath Trail from New Hope to Centre Bridge is Open
April 11, 2019
The Phillips' Mill Bridge project is finished,and the towpath has reopened! The New Hope to Centre Bridge to Stockton to Lambertville to New Hope PA/NJ Loop is back.