Water Level in the North Lowered.
April 15, 2019
The water level in the north end of the Canal has been lowered to facilitate the repair of a sinkhole at Lock 20 south of Kintnersville.
Towpath Trail from New Hope to Centre Bridge has reopened.
April 11, 2019
The Phillips' Mill Bridge project is finished,and the towpath has reopened!    The New Hope to Centre Bridge to Stockton to Lambertville to New Hope PA/NJ Loop is back.
POP-UPs This Winter
January 8, 2019
Last winter, bad weather foiled nearly all of our attempts to get outdoors on the Delaware Canal. So, this year, we're going to try a different tactic.
Rather than scheduling dates in advance, we're going to do POP-UP activities. When the forecasters say that the skies will be sunny, the temperatures above frostbite, and the winds relatively calm OR we have a perfect snowfall, we'll send out a message letting you know what we'll be doing and where we'll be doing it along the Canal's length. We might be hiking. We might be cross-country skiing or snowshoeing or maybe something completely new. (Wouldn't it be great to have a skating party?)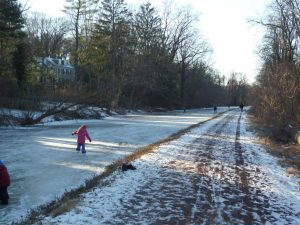 We'll be waiting for the right opportunities and will notify you with the details by sending an e-mail message and posting on the Events page and our Friends of the Delaware Canal Facebook page.
Here's hoping for lots of fun on the Canal this winter.
Concrete Armoring Being Installed South of Easton
December 12, 2018
The level of the Canal is down in the north because the State Park is installing concrete armoring to hinder an ongoing erosion problem that's been going on for years near the Highlands south of Easton. This work is being done to prevent the towpath and canal from being blown out.
Towpath at Scudder Falls Bridge Construction Site To Be Closed Temporarily
Wednesday, November 14, 2018
TRAIL CLOSURE: The towpath will be closed in the area of I-95/I-295, Scudder Falls Bridge, from November 27, 2018 to December 18, 2018. The closure will be in effect Monday through Friday during this time period with the towpath open on weekends. The Delaware River Joint Toll Bridge Commission (DRJTBC) will be performing work on the I-95/I-295 bridge over the canal during this closure. For additional information please visit the DRJTBC website at www.drjtbc.org/project/scudder-falls or you can contact the Delaware Canal State Park Office at 610-982-5560.