Towpath Trail Closure North of Centre Bridge
June 27, 2018
TRAIL CLOSURE: The towpath will be closed approximately a 1/2 mile north of the Virginia Forrest Recreation area and a 1/2 south of the bridge at Delaware Quarries. Contractors will be repairing a collapsed wall along the river and towpath during this closure. The closure will take place on June 27, 28, and 29 and on July 2 and 3. The Towpath will be open on the weekend (June 30 and July 1) and will be open on the 4th of July. For additional information please contact the park office at 610-982-5560 or email: delawarecanalsp@pa.gov
Phillips' Mill Bridge Replacement is Progressing
June 11, 2018
Bi-State Construction has installed the temporary roadway that gives access to the bridge construction project and the pipes that will allow canal water to flow past the site as soon as the Centre Bridge pump is put back in service ( we hope this week).  The towpath trail is CLOSED between Lower Limeport Bridge to the north and the bridge at Canal Park to the south.  The project could take as long as April 2019, and the trail will be closed throughout that time.
Please do not try to get through that area by removing barriers.   They will be replaced and the project will take that much longer to complete.
Also please be aware that the temporary roadway is for use only by the contractor and the owners of the riverside properties that have no other access.
Your cooperation will be very much appreciated by all involved and affected.
Torrential Rain Causes Canal to Overflow
The sudden torrential rainfall in the southern and central sections of the Canal caused the waterway to overflow in Yardley Borough on Sunday morning, May 27th.   Several cars were engulfed in the adjoining neighborhood.   A case of too much water coming down too fast in too small a space.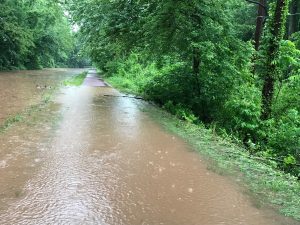 Sinkhole Repair in Upper Black Eddy
Wednesday, May 23, 2018
Reported by Pete Rosswaag –
The canal water has stopped flowing in Upper Black Eddy and points south because the waste gate at Indian Rock Inn is open. The waste gate is open so that sink holes can be repaired. The sinkholes are near "Mulligan's Bridge, just south of the previous breach in the canal wall that was repaired in May 2011.
As you can see by my pictures, Bi-State Construction is already on site and beginning the repairs. The white boom-type things are being used so that water levels don't have to be further reduced.  Let's hope for a speedy and successful repair so flowing water can be resumed!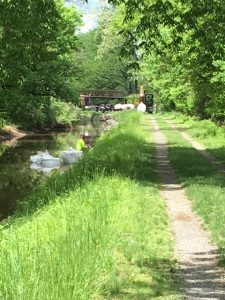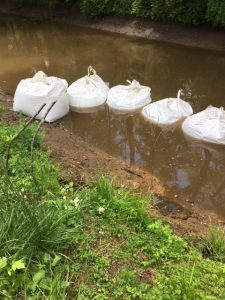 Centre Bridge Pump Update
Friday, May 11, 2018
From Josh Swartley, Delaware Canal State Park Manager —
We tried to retrieve the pump on Tuesday and were unable to get to it.  River level is still too high.  We also need to replace the compression fitting on the discharge line where the flexible pipe meets the plastic pipe.  The parts have been ordered for this and should be available next week.