Nockamixon Cliffs Area Closure
Beginning tomorrow, February 1, a major portion of the Nockamixon Cliffs area of the park will be closed to all activity, including ice climbing. Visitors to the area may still park in the roadside lots and use the towpath as normal. Closed areas are posted with signage.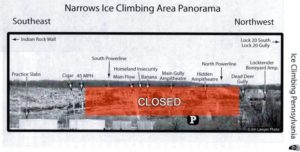 Public cooperation is much appreciated during this closure, which first began in 2016. Since then, the cliffs have been closed annually between Feb 1 and July 31.
As a reminder, the Nockamixon Cliffs are a designated Natural Area. This special designation is an area within a state park of unique scenic, geologic, or ecological value which will be maintained in a natural condition by allowing physical and biological processes to operate usually without direct human intervention. Title 17 Chapter 17, (Conservation and Natural Resources) of the Pennsylvania Code provides some additional information on the designation and administration of these lands. Ice climbing is allowed when conditions permit, outside of the closure time frame. During the closure, some established climbing routes on either end of the closed area will remain open, including "Dead Deer Gully" and "45 MPH".
If there are any questions, please call the park office at 610-982-5560.
Towpath Closure – Washington Crossing Route 532 Bridge
Tuesday, December 20,2022
TOWPATH CLOSURE *(MM 17.8)* – The towpath will be closed under the Route 532 Bridge (MM 17.8) starting Tuesday 12/20/22 until further notice. The purpose of this closure is for PUBLIC SAFETY due to heavy damage to the bridge railing, which is precariously hanging over the towpath. Trail users should turn around at the closure and NOT attempt to get by it.
Towpath Closure at High Falls Creek in Upper Black Eddy
TOWPATH CLOSURE*(Mile Post 44.27)*-The towpath will be closed at the High Falls Creek sub-canal culvert(MP 44.27) until further notice due to massive damage that occurred during tropical storm Ida. The purpose of this closure is for PUBLIC SAFETY. Trail users should turn around at the closure and NOT attempt to get by it.
Now Open – New Shared-Use Path at the Scudder Falls Bridge
November 22, 2021
The new shared-use path and complex were unveiled on Thursday, November 16th.  The path connects Lower Makefield on the Pennsylvania side with Ewing in New Jersey.  The complex includes a 127-space park-n-ride lot located at the intersection of Taylorsville and Woodside roads in Lower Makefield as well as a comfort station housed in a restored stone structure that dates back to 1799. Bridge and trail ramp connections can accommodate pedestrians as well as cyclists and are ADA compliant.  The new shared-use path improves access to the Delaware Canal towpath in Pennsylvania and the D & R Feeder Canal towpath in New Jersey, creating an additional loop trail for residents and visitors to enjoy.  There are four overlook locations on the span to encourage all to take in the scenery.  This project was funded by the Delaware River Joint Toll Bridge Commission.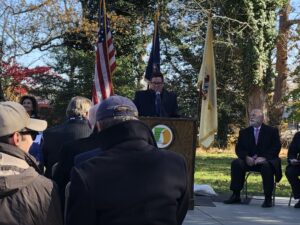 Upstream view of the Delaware River from the new Shared-Use Path
Delaware Canal Towpath Closure Lumberville Aqueduct Pedestrian Bridge
September 10, 2021
TOWPATH CLOSURE (Mile Post 31.11).
In the area of Lumberville, the towpath is CLOSED at the Lumberville Aqueduct Pedestrian Bridge. The purpose of this closure is for PUBLIC SAFETY and will be in effect until the crossing can be made safe. Trail users should turn around at the closure and NOT attempt to get by it. The aqueduct and associated pedestrian crossing sustained significant damages during Tropical Storm Ida to include the loss of a structural pier beneath the aqueduct.  
Delaware Canal Towpath Closures/Avoidances Due to TD Ida
September 7, 2021
If you plan to use the towpath be sure to use extreme caution due to damages sustained from Hurricane Ida. It is highly advised that visitors avoid the section of towpath between Easton (MP 58.89) and Point Pleasant, Lock 14 (MP 32.3). There are downed trees and debris along the entire length of the towpath. The towpath is closed in the area of Upper Black Eddy (MP 43) due to a bank collapse and washout to the river.  Areas of SR 611 and River Road (RT 32) are washed out leaving areas inaccessible. The Day Use Recreation Areas at Theodore Roosevelt (MP 53.1) will remain closed due to ongoing cleanup efforts. Heed all signs for road and towpath closures. Traveling by car near the park may be difficult to navigate.
If you plan to go to Ralph Stover State Park this weekend, use caution on trails. There will be limited parking due to parking lot washouts.
Friends of the Delaware Canal Names New Executive Director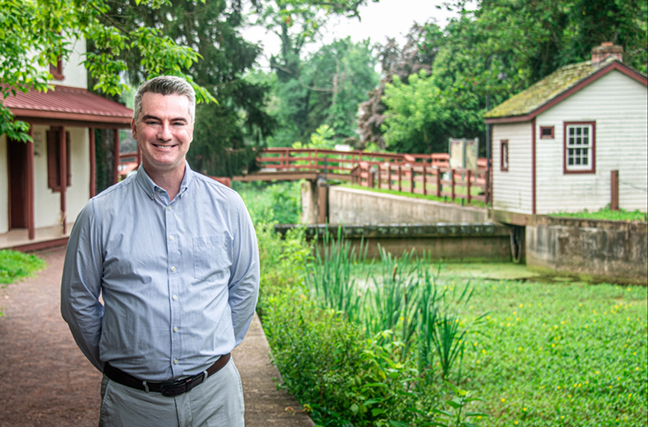 New Hope, PA, July 26, 2021 – The Friends of the Delaware Canal (FODC) today announced that Michael D. Ginder has been appointed executive director of the organization. Susan Taylor has retired after 30 years in that role.
Brett Webber, president of the FODC, said, "The Friends of the Delaware Canal is excited about Michael's appointment. We look forward to working with him and building on Susan's many accomplishments."
"The Canal is such a vital part of our region's history, and I am fortunate to have the opportunity to join the Friends as the next executive director," said Ginder. "It will be exciting to work with the passionate individuals who are stewards of the canal, expanding our membership base, and encouraging area residents and visitors to spend time along the Canal."
Ginder, a New Hope resident, was previously director of Business and Employment Services for the Arc Mercer. He has also served as executive director of the Woodford Cedar Run Wildlife Refuge in Medford, NJ, where he was responsible for the strategic planning, financial well-being and fundraising for the organization.
FODC works in partnership with the State of Pennsylvania's Department of Conservation and Natural Resources (DCNR) Bureau of State Parks and Delaware Canal State Park to undertake restoration projects that rescue significant Canal structures. FODC has restored five of the six historically authentic camelback bridges and is collaborating with the state to ensure an accurate restoration of Spahr's Bridge in Upper Black Eddy, where work has already begun.
In 2022, FODC will mark the 40th anniversary of its founding in 1982 with plans underway to celebrate in communities along the entire length of the Canal. The Canal, which runs nearly 60 miles from Easton to Bristol, PA, is watched over by volunteer FODC canal tenders who inspect the towpaths, pick up trash, clear branches and report problems throughout the year.
The FODC mission is to sustain a unique link to the country's national heritage, protect beautiful and diverse natural areas, provide recreational and educational opportunities and enable the Canal to serve as a community and economic asset.
MEDIA: You may download the entire press release and photo here.
Towpath Closure on June 8
June 7, 2021
T
owpath Closure Tomorrow.
FRYS RUN AQUEDUCT TO MUELLERS GENERAL STORE (MILE 52.1 TO MILE 51.3 ): ON TUESDAY 6/8 The towpath will be CLOSED between Frys Run Aqueduct and Mueller's General Store due to a required canal repair. Trail users should turn around at the closure and NOT attempt to get by it, as heavy equipment will be blocking the towpath during the repair. Repair is anticipated to be completed within one day.