Lehigh River Water Flowing Southward in the Canal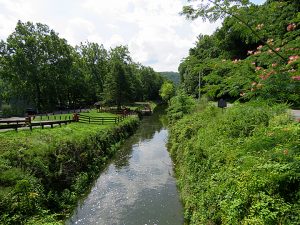 July 27, 2020
On Friday, July 24, following the installation of the new drop gate at Groundhog Lock (Locks 22-23) in Raubsville, the Delaware Canal State Park staff opened the bypass gate in Easton allowing Lehigh River water to enter the Canal.  On Saturday, the water had flowed to and past Groundhog Lock to the waste gate at Mueller's Store.  There the water was released to control the new inflow.   Today, the waste gate at Mueller's was closed, and the water has reached Riegelsville and beyond.  At Durham, it will be released into the Delaware River until the completion of the Tinicum Aqueduct project.
Intermittent Towpath Closure at Scudder Falls Bridge Continues Through July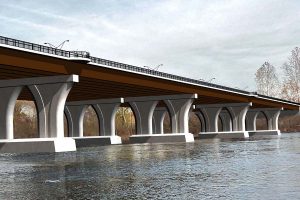 June 24, 2020
SCUDDER FALLS AREA (MILE 16):  The towpath may be closed intermittently in the area of I-95/I-295, Scudder Falls Bridge, intermittently through end of July 2020.  Closures may occur between 6am-5pm Monday through Friday; the trail will be open on weekends. The Delaware River Joint Toll Bridge Commission (DRJTBC) will be conducting work on the new bridge over the canal and towpath during these closures.  For additional information please visit the DRJTBC website at www.scudderfallsbridge.com or you can contact the toll-free info line at 855-495-7726.
Uhlerstown Covered Bridge Repair Project Completed
June 24, 2020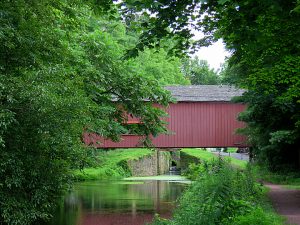 The repairs to the Uhlerstown Covered Bridge are finished.  Both the towpath and Uhlerstown Hill Road are OPEN.
Forks of the Delaware Parking Lot to be Closed on Weekdays
June 23, 2020
The parking lot at the Forks of the Delaware in Easton – a trail head for both the Delaware Canal and the D&L Trail –  will be closed Monday, June 29 through Friday, July 3  and then Monday, July 6 through Friday, July 10.
Towpath Closed at Uhlerstown Covered Bridge – June 22 – June 26, 2020
Please be advised that the Canal Towpath will be closed from Monday, June 22 to Friday, June 26, 2020 for repair work on the Uhlerstown Covered Bridge.