Nockamixon Cliffs Area Closure
Beginning tomorrow, February 1, a major portion of the Nockamixon Cliffs area of the park will be closed to all activity, including ice climbing. Visitors to the area may still park in the roadside lots and use the towpath as normal. Closed areas are posted with signage.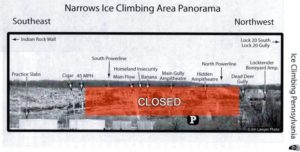 Public cooperation is much appreciated during this closure, which first began in 2016. Since then, the cliffs have been closed annually between Feb 1 and July 31.
As a reminder, the Nockamixon Cliffs are a designated Natural Area. This special designation is an area within a state park of unique scenic, geologic, or ecological value which will be maintained in a natural condition by allowing physical and biological processes to operate usually without direct human intervention. Title 17 Chapter 17, (Conservation and Natural Resources) of the Pennsylvania Code provides some additional information on the designation and administration of these lands. Ice climbing is allowed when conditions permit, outside of the closure time frame. During the closure, some established climbing routes on either end of the closed area will remain open, including "Dead Deer Gully" and "45 MPH".
If there are any questions, please call the park office at 610-982-5560.
Canal Clean-up Day 2023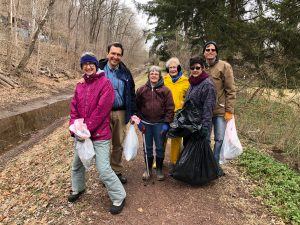 The Friends of the Delaware Canal Clean-Up Day if scheduled for april1, 2023. The entire 58.9-mile length of the Canal will get its annual spring cleaning through the efforts of Area Coordinators, Canal Tenders, and hundreds of volunteers.
This year many of our Coordinators and Canal Tenders have reported that their sections are cleaner than ever. However, areas, particularly in the Canal's southern end, can always use additional hands to help. Whether in the south or north or anywhere in between, your help is always appreciated.
To volunteer, please review the Work Area list (help is very much needed in the sections highlighted in bold type) and let us know where you would like to be located.  You can tell us your preference in a number of ways.  You can fill out our online form, e-mail the Friends at friends@fodc.org or call our office at 215-862-2021. We will provide the Canal Coordinator with your information, and they will let you know where to meet, what to bring, and answer any questions that you may have.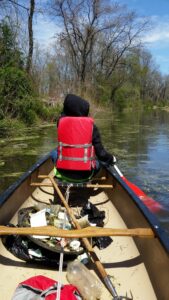 So, pull out your work gloves and come out on April 1 to get the Canal ready for the busy season. If you have a canoe or kayak, bring it along. The trash that accumulates on the berm side of the Canal (the side opposite the river) is most easily retrieved from a boat, and, sometimes, it's the only way to get to it safely.
It is the hard work of all our volunteers on clean-up day and throughout the year who make this vital greenway a welcoming place for all.
Please keep up the great work. And as always, individual clean-ups are welcome – anytime, anywhere.
Oh, and pictures.  Don't forget to send pictures. 
Thanks, and see you on the towpath!
Delaware Canal Clean-Up Day Work Areas
The list of this year's work areas follows.  Help is especially needed in the highlighted areas.  Please contact us to volunteer.
Bristol Riverfront Park to Bristol Lagoon Park
Bristol Lagoon to Green Lane
Green Lane to Edgely Avenue
Edgely Avenue to Levittown Shopping Center
Levittown Shopping Center to Mill Creek Road
Mill Creek Road to Wheatsheaf Road
Wheatsheaf Road to Tyburn
Tyburn Road Detour South End to Conrail Tunnel
Conrail RR Tunnel to Bridge Street
Bridge Street to E. Maple Avenue
Maple Avenue to Ferry Road
Ferry Street to Black Rock Road
Black Rock Road to Afton Avenue
Afton Avenue to Mt. Eyre Road
Mt. Eyre Road to Stoney Run Aqueduct
Stoney Run Aqueduct to Thompson-Neely Bridge/Bowman's Hill
Bowman's Hill/Thompson-Neely Bridge to Lock 9
Lock 9 to Bridge Street
Bridge Street to Rabbit Run Bridge
Rabbit Run Bridge to Phillips' Mill
Phillips' Mill to Centre Bridge
Centre Bridge to Virginia Forrest Recreation Area
Virginia Forrest Recreation Area to Lock 12
Mountainside Inn to Bridge 2
Bridge 2 to Bridge 3
Bridge 3 to Lock 17
Lock 17 to Uhlerstown Bridge
Uhlerstown Bridge to Lodi Hill/ Lock 19
Lodi Hill/Lock 19 to Homestead General Store
Homestead General Store to the Narrows
The Narrows to Mueller's Store
Mueller's Store to Wy-Hit-Tuk Park
Wy-Hit-Tuk Park to Easton
Volunteer Information
Sign up here to help on Canal Clean-up Day.