Canal News – Winter 2018
The Canal Gets Signs With Help from Our Friends
The Friends  of the Delaware Canal are pleased to report that four interpretive sign projects will move forward this year.  Two involve replacement of sign panels that are the worse for wear after 20+ years.  The other two will create new and long-awaited signs that will allow visitors to better understand what took place at special sites.
The Friends, Bristol Borough Council, the Grundy Foundation, Bucks County Conference and Visitors Bureau, and the Bristol Cultural and Historical Foundation have collaborated to replace the nine interpretive signs that tell the story of the Delaware Canal as it passed through Historic Bristol Borough from the Lagoon to Riverfront Park.  Not only will the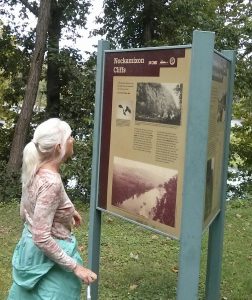 panels be replaced, but the content will be revised to include new information and photographs.
Eighteen wayside signs that tell the basic story of the Delaware Canal will be replaced thanks to the generosity of thirteen guests who enthusiastically contributed to their cost during the auction at October's Faces and Places benefit.
The lost town of Uhlersville and the powerhouse at Groundhog Lock in Raubsville will have their stories shared on a new three-panel kiosk sign thanks to the initiative of several local residents and a generous contribution from the Williams Township Board of Supervisors.
A wayside sign about the fascinating history of Smithtown in Tinicum Township will be created through a contribution in memory of dedicated, long-time member Tom Copenhaver.
Exciting and challenging days lie ahead as text is written, illustrations are found, and the signs are designed – all in the quest to share the Delaware Canal's rich history in the best, most understandable way.
We are so grateful to all our partners for their support of these efforts.
+++++
The Flowable Fill Solution
 by Tony Giacobbe, Regional Engineer, PA Department of Conservation and Natural Resources, Park Region #4
 Bilal Baqai, Civil Engineer, PA DCNR, Park Region #4
Sinkholes have been an issue in the more recent history of the Delaware Canal, and an especially incessant and serious problem in 2017.  Sinkholes are openings that develop in the canal prism and tend to be most prevalent in areas where the Canal is adjacent to high rock walls and their associated  shallow bedrock.
The fractures in the upper strata of the bedrock serve as erosion channels or "pipelines" for the materials, such as soil and gravel, which lie under the Canal's clay liner. The channels were revealed by the use of ground penetration radar (GPR) during DCNR's latest study to understand why sinkholes form.
Previously, DCNR's best practices included over-excavating the sinkhole, placing some bentomat (a geosynthetic clay liner), then finally packing clay above the liner to canal-bed elevation.  This practice did not seem effective since there were locations where this repair had been done multiple times.
To minimize costs of repairing the same areas, alternatives were considered for repairing sinkholes. "Flowable fill" was chosen as an inexpensive and effective material for the task.  Flowable fill consists of Portland cement, fine aggregate, fly ash, water, and may contain other admixtures as needed (admixtures are materials that are added to the basic mix to change or improve the quality of the product).  Like concrete, flowable fill cures over time, but its curing process is less restrictive.   The use of flowable fill has become much more common by PennDOT for structural backfilling, pipe and bedding backfilling, and utility trench back filling, among many other uses.
The unique aspect about flowable fill is that it can flow into interstitial spaces without the need of vibrators, and once it settles and cures, it leaves a level surface.  Along the Delaware Canal, it has become a much-needed solution to preventing leaks through the fractured bedrock under the Canal.
Once a sinkhole or cavity is identified, it is excavated, if needed, to identify the extent of the cavity.  Flowable fill is then poured into the hole to ensure that all voids are plugged.  After placement of the flowable fill, the area is lined with clay and compacted. With the restoration of the clay liner, the repair process is complete.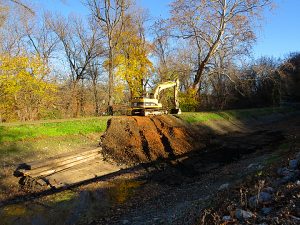 +++++
Thank You So Much!
2018 is off to a splendid start thanks to all of you who so generously responded to the Friends' Year-End Appeal.  We asked you to help us accomplish more in the new year, and you did just that.   Your contributions replenish the Canal Improvement Fund.
+++++
 See It before It's Gone
Beginning in 1794, the River House accommodated rafters and boaters who tied up before making their way through the formidable Wells Falls on the Delaware River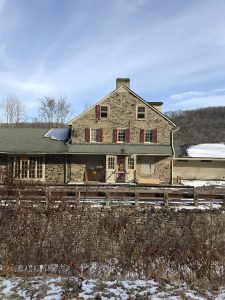 in New Hope.   When the Delaware Canal opened in 1831, the River House also welcomed canal boatmen on their way south to Bristol.    In the 20th century, the River House came to  be Odette's, a popular cabaret and restaurant.
Preparations are well underway to move the original portion of the fieldstone River House inland to the American Legion triangle on South Main Street.  The move will make way for the new Riverhouse at Odette's, a luxury boutique hotel catering to weddings, meetings and special events.
Soon the River House that has stood between the Delaware River and the Delaware Canal for nearly two hundred years will no longer be at the site that gives it meaning.  It's time to take a last look.
Many purposes will be served by the new Riverhouse at Odette's complex.  Sadley, historic preservation is not one of them.
+++++
Park Manager's Report
Happy New Year!
It has been a cold, snowy winter so far with much of the Canal frozen and snow on the towpath.  We still have several weeks of winter to come with, I'm willing to bet, several more snow storms.   It may be a good time to dust off the cross-country skis and get them ready for a trip out on the Canal.
We are anticipating the beginning of several projects along the Canal this year.  They are:  the Kleinhans Aqueduct replacement in Williams Township, the Phillips' Mill bridge replacement in Solebury Township, the construction of a tunnel through the Conrail embankment near Fairless Hills, and the trail bypass along Tyburn Road.
In addition, development in New Hope at Odette's is beginning to move forward.  The Gateway to New Hope group is in the process of installing a temporary access road at the northern end of Odette's to provide trail access to Park visitors.  They are also preparing and shoring up the oldest portion of the Odette's building so that it can be moved to its new location at the intersection of New Street and Riverwoods Drive.  The move is anticipated to be within the next few months.  DCNR is in the process of developing a preliminary plan for its facilities in New Hope including the relocated Odette's building.  The Department is looking at the feasibility of building a classroom space, public restrooms, and a new concession building in New Hope along with repurposing the Odette's building into a space where educational and interpretive activities can take place.  We would also like to make the towpath more accessible by installing an ADA accessible ramp from South Main Street up to the Canal.
Enjoy the Canal!
Josh Swartley
+++++
Want to be a Canal Tender?
Canal Tenders are at work along the entire length of the Canal, and their year-round help is very much appreciated by visitors and the State Park staff.  Tenders pick up litter and debris, remove any small obstructions from the towpath, make notifications concerning creeping invasive species, watch for and report significant changes or anything unusual about their section of the Canal, and submit written reports twice each year.
Two of our long-time Tenders have retired because they've moved inland.  Marge Copenhaver and Robert McEwan cared for their sections for many years and we thank them for all of their efforts and concern.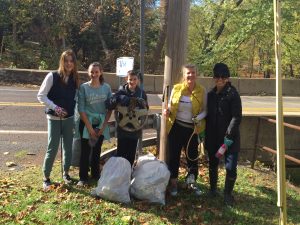 Although nearly all of the Canal is covered from Easton to Bristol are covered, there are five sections that need adoption.
Bristol Riverfront Park to the Lagoon (0.97 miles)
Beaver Street to Home Depot/Levittown Shopping Center (2.91 miles)
Wheatsheaf Road to the Conrail Obstruction (2.52 miles)
Phillips' Mill to Centre Bridge (1.54 miles)
Smithtown Bridge 3 to Treasure Island Lock 17 (1.01 miles)
Please let us know if you can help fill these gaps.  The sections can be divided into shorter lengths to suit Canal Tender's needs.
Being a Canal Tender is an interesting and exciting volunteer opportunity.  The Canal is ever-changing and Tenders get to experience it all.  Please call 215-862-2021 or email friends@fodc.org for more information.
+++++
Opportunity Knocks
Want to help the Friends help the Canal?
Here are some of the ways that you can –
Work with the Canal Action Team (CAT) on projects that require some heft.
Become a Canal Tender. Several sections of the Canal need adoption.
Be part of a Friends' committee and make things happen. The standing committees are:
Advocacy, Restoration and Maintenance
Development
Education and Recreation
Finance
Fundraising
Membership
Check out the Help page at www.fodc.org to learn more and feel free to call Susan at 215-862-2021  or e-mail friends@fodc.org with questions or suggestions.
+++++
At the Board Table
During our Annual Meeting on November 14, several actions were taken concerning the Friends' Board of Directors.
Retiring, but still active, Board member Peter Sperry was honored and thanked for his many accomplishments. The membership re-elected Jeff Connell, Bob Ketler, Eileen O'Neil, Pete Rosswaag, and Brett Webber to additional two-year terms.
Elected to their first terms were Laure Duval and Lawrence Reinfeld.
At its first meeting of the new year, the Board of Directors elected its officers.
Brett Webber – President
Pam Can – Vice- President
Lynn Vogel – Secretary
Judith Franlin – Treasurer
The Board looks forward to making progress in 2018 and having some fun, too.
+++++
Welcome, New Friends
Ron Anzivino
Curt Biehn
Bristol Borough Business Association
Barbara Bristow
Brian Cassel
Kamini Desai-Carroll
Robin Federiconi and Daniel Popkin
Brian Greene
Jack Hartmann
Richard Jackson
Dorothy Knaus
Theresa Lynn and Kenneth Plunkett
Mary O'Malley
Janet Margolies
Nancy Martin-Gash
Maureen McFadden
James O'Brien
Joanne and Alfred Reszka
Jane Richter
Mr. and Mrs. Jeffrey Schrader
Bruce Schwendy
Raymond Skaddan
Kathleen Weeks
Yoga Love Studio
+++++
Lunch and Walk
It's hard to beat the combination of walking along the Canal towpath as it hugs the Delaware River and having a great lunch midway. Join the Friends as we launch the spring season with a 5.75-mile, roundtrip hike.
Starting at Wy-Hit-Tuk Park, we'll glimpse its scenic "Monet" bridge and then walk northward to the Forks of the Delaware, where the Lehigh River feeds the Delaware Canal and flows into the Delaware River. We'll view the Lehigh River dam and find out why a fish ladder was built at this location.   The Canal bypass, guard lock, wicket shanty, weigh lock will all be on view, as well as the stone arch opening to the Morris Canal in New Jersey.
From the Forks, we will cross the bridge into the City of Easton and head into town for a gourmet lunch at Sette Luna.

Menu     
Caesar Salad (with or without anchovies)
A generous selection of both Sette Luna's classic and uncommon pizze –
Franco with sausage, roasted red peppers, and red onion
Genova with soppressata and pepperoni
Margherita with San Marzano tomato, fresh mozzarella and basil
Santorini Blanca with feta, artichokes, and pinenuts
Torino Blanca with potato, pesto, and Parmigiano Reggiano
Unlimited  coffee, tea, soda, or water.   ( Alcoholic beverages may be purchased.)
After lunch, we'll head back to Wy-Hit-Tuk Park partaking in some homemade oatmeal and chocolate chip cookies along the way – just to keep up our energy.
Donation – $25 per person.   Reservations are required.   Please call 215-862-2021 or e-mail friends@fodc.org no later than March 17.  If the weather is uncooperative, we won't be walking, but we will meet at Sette Luna at noon for lunch and good conversation.
Meet in the parking lot of Wy-Hit-Tuk Park, a Northampton County park.  The entrance is located at 575 South Delaware Drive (Route 611), Easton, PA 18042
The Delaware Canal According to Will and Susan
Will Rivinus first walked the entire length of the Delaware Canal in 1963.  Susan Taylor did her first end-to-end in 1991.   Between the two, they have accumulated 82 years worth of knowledge and tales about the waterway and its surroundings.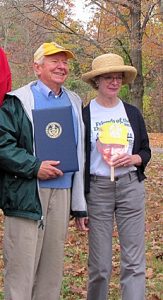 Traditionally one would have to participate in the Friends' annual Canal Walk to hear Will and Susan's full array of stories, but our March program offers you the opportunity both to hear them and see great photos of the Canal all without walking any farther than from the David Library parking lot to your seat in the auditorium.
The photos that you will be viewing are a compilation from the Friends' travelling Delaware Canal Show, Will's Delaware Valley University adult school program, and Susan's presentation to the Canal Society of New York State.   It's a good assortment, including illustrations of how the Canal has recovered from the floods.   As for the narrative, Will and Susan have so much in their heads, they've had to promise to keep it short – unless the story is particularly tantalizing.
Take this special opportunity to explore the Canal with Will and Susan.
The program will be held at  the Feinstone Conference Center at the David Library of the American Revolution, 1201 River Road, Washington Crossing, PA 18977.
The Winter Footwear Walk
The perfect snowy day walk – an event for which the Friends have long hoped.  We've been foiled by no snow, too much snow, too much ice, and unplowed parking lots, but we're not giving up, especially this year.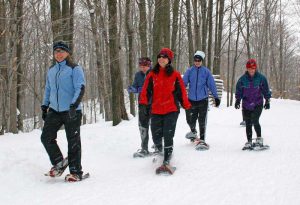 The Delaware Canal State Park has acquired more winter footgear that can be lent at no charge to the adventurous.  Ten pairs of snowshoes in assorted adult sizes and three pairs in kids' size are ready to meet the snow-covered towpath, and the Park now has fifteen pairs of micro spikes in adult sizes for icy conditions.
No matter what kind of footgear is required, including plain old boots, the Friends will be walking (or trodding) along the scenic Delaware Canal towpath between the villages of Point Pleasant and Lumberville on February 18.   Park Educator Katie Martens and Susan Taylor will guide the 3-mile roundtrip hike.   We might catch glimpses of bald eagles and waterfowl along the way, and there is no shortage of history about the two villages, much less the intriguing Devil's Half Acre that lies midway.   Our outing will end with hot chocolate and homemade cookies.
If you would like to borrow snowshoes or micro-spikes from the Park, please reserve your footgear in advance by calling 215-862-2021 or e-mailing friends@fodc.org.   The equipment will be available on a first-come, first served basis.   You are more than welcome to participate wearing your own footgear.
The Winter Footgear Walk is free and will be held conditions permitting.  Check on the homepage of www.fodc.org for a Go/No Go message that will be posted by 8 a.m. on February 18.
Meet in the parking lot across from the former Mountainside Inn in Point Pleasant.  The Google Map address is 4728 River Road, New Hope, PA 18938
Canal Clean-Up Day
All  58.9 miles of the Canal are ready and waiting for the Friends' annual spring cleaning.  We're hoping for good weather this year.
Holding with tradition, the Canal will be divided into approximately 25 Work Areas, and volunteer coordinators will handle the logistics for each of the Areas.  On-land and by-boat clean-ups are encouraged.
If you have questions or would like to volunteer either as a worker or as a community coordinator, please call 215-862-2021 or e-mail friends@fodc.org.  If you know of a new group that may be able to participate, please let us know.
The Clean-Up Day Work Areas will be listed in the spring issue of Canal News,  posted on www.fodc.org, and sent out to our e-mail contact list.