Hike Out the Old Year and Bring in the New
Welcome 2022 and say good-bye to 2021 on our brisk four-mile walk.
Walk from the Scudder Falls Bridge Parking Area to Hough's Aqueduct, a nearly 4-mile round-trip walk. We will meet at the Parking lot adjacent to the Scudder Falls pedestrian walk.
Join us as we stroll along the canal and hear stories about the present and the past.  What better way to spend time with friends old and new between Christmas and New Year's.
We will start at the base of the Scudder Falls Bridge and learn about the improved accessibility and how the bridge got its name.  From there we will travel north to Woodside Road then onto Borden's Lock, which is the first lock south of New Hope and the end of the seven-mile level.  We will pass a board and batten "house" along the towpath complete with coal stove.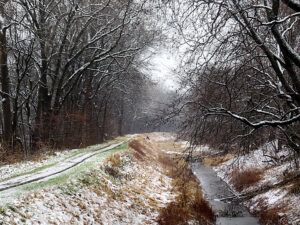 As we continue north we will see the Milk House Bridge with a nearby gambrel roofed house that dates back to 1706. The first owner's grandson was convicted of aiding British prisoners during the Revolutionary War.  Records show the man was charged with "disaffection to the American cause" and fined 10,000 pounds.
One of the six authentic camelbacks is next on the tour.  This is one of the camelback bridges that was restored by the Friends. We maintain the structure by replacing boards and paining when needed.
We will then learn about the Tabola-Beans Bridge.  According to Hugh Shaudys, the man who lives by the Canal at Mt. Eyre Road and who came out and talked with Canal Walkers, Fred Beans, of car dealership renown, owned the property in the 1920s and the name was changed to Tabola by the next owner.
Finally, we will end at Hough's Creek Aqueduct.  This structure was rebuilt in 1969 in concrete.  The creek is named for the first settler on its banks, Richard Hough.
This hike will be held unless it's raining or snowing.  If in doubt, check for a go/no go message on the www.fodc.org homepage.
Attendance is limited to 30 people.  Pre-registration is required: Call the Friends of the Delaware Canal at 215-862-2021 or email friends@fodc.org to reserve your spot. Please dress warmly and wear comfortable shoes.