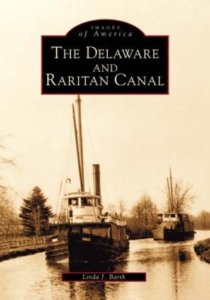 Many towpath visitors take advantage of the Loop Trails that connect Pennsylvania with New Jersey. Both states have similar canals and histories but serve very different purposes today.
The Delaware Canal in Pennsylvania and the Delaware and Raritan Canal in New Jersey began as transportation waterways. These canals were designed mainly to transport coal to cities in both states. The Delaware and Raritan Canal crossed New Jersey from Bordentown to New Brunswick, connecting the Delaware and Raritan Rivers. The canal eliminated the need to use the Atlantic Ocean route to get from Philadelphia to New York, thus reducing travel time from two weeks to two days.
The canal boats on the Delaware Canal made their way from Easton to Bristol via New Hope. Here, boats headed to New York crossed the Delaware River via a cable ferry across the river to Lambertville. The boats continued their journey south from Lambertville on the D&R Canal. There are remnants of the cabling system in New Hope today, behind the River House at Odette's.
This section of the D&R Canal along the Delaware River is called the feeder canal because it feeds Delaware River water into the main canal at Trenton. The feeder starts at Bulls Island and runs through Stockton, Lambertville, Washington Crossing, and Trenton.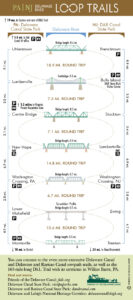 However, the Delaware Canal and the D&R Canal would be forever changed by the expansion of the railroad throughout the two states. In 1871, the Pennsylvania Railroad leased the D&R Canal for 999 years and, after many years of financial losses, ceased operating the canal in 1933. The remainder of the canal was turned over to the state of New Jersey in 1937.
Once the railroad began connecting major cities along the East Coast, the canal could not compete. Consider that the trains ran all night and all year, but the canals did not operate at night or during the winter. Thus, the canals went into deficit and eventually ended operation as transportation systems. Both canals became the property of their respective states.
In Pennsylvania, the canal and towpath were repurposed as the Delaware Canal State Park, which was created in 1940. In 1937, the Delaware and Raritan Canal was turned over to the state of New Jersey. And while both canals became popular recreation spots, the feeder canal of the Delaware and Raritan Canal continued its original purpose, to "feed" or send water to the main canal. This canal is operated by the New Jersey Water Supply Authority, providing drinking water to over 1,000,000 residents of Central New Jersey. As a consequence, this canal is always fully watered.