Restoring the Sixth Camelback Bridge
Out of the 100+ bridges that once crossed the Delaware Canal, Spahr's Bridge in Upper Black Eddy is one of only six that retains its authentic and iconic camelback structure. The Friends spearheaded the restoration of four of the other camelbacks, encouraged the fifth, and have had Spahr's on our to-do list for years.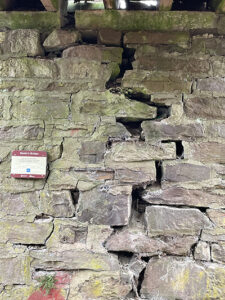 Spahr's Bridge has been a formidable project to tackle because not only is the superstructure severely deteriorated, but also both stone abutments are cracked, a condition exacerbated by two earthquakes. The $350-$400,000 cost of restoring Spahr's Bridge has been an obstacle.
Now the stars are aligning.
The relatively new owner of the property on either side of the Bridge believes in historic preservation and supports its restoration rather than modernization. The condition of the Bridge is now so poor that action by the State is inevitable. The Friends have been very vocal in our support of handling the project using historic preservation best practices, and the State agrees. Plans are now underway to hire a highly qualified contractor to dismantle the superstructure taking care to inventory and record the existing members and store and reuse timber and hardware when possible. The State plans to contract with a consultant to prepare the plans and specifications for the repair of the stone abutments. The State will fund both the dismantling and the abutment projects.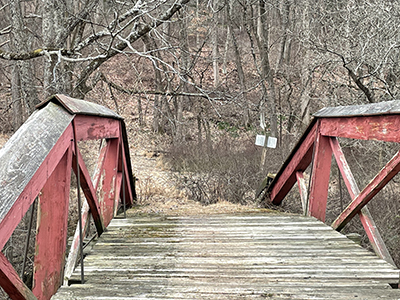 And we come to the part of the Spahr's Bridge project with which you can help.
Private contributions are being sought to fund the superstructure portion. In simpler terms, the trusses, the deck, the cross beams, and the hardware. Putting Spahr's Bridge together requires expertise, skills, and passion. The Friends contribution to the project will help ensure that those requirements are met.
We are very pleased and thankful for two very generous donations from the Goodfellow Fund and Barbara and Peter Sperry. They have given the Spahr's Bridge restoration a great jump start.
More information about how you can help will be coming soon. If you're already convinced, you can donate now by filling out the form on this page or, even better, send your check to Friends of the Delaware Canal, 145 South Main Street, New Hope, PA 18938.
Help Fund Restoration of Spahr's Bridge
Help us restore the sixth and final historic camelback bridge over the Canal in time for the Friends of the Delaware Canal's 40th anniversary in 2022.