Canal Clean-Up Day PLUS
Mark Your Calendar
Usually the Friends' annual Clean-Up Day takes place on the first Saturday in April, and hundreds of volunteers tackle the trash that's accumulated in and along the Canal's 58.9-mile length.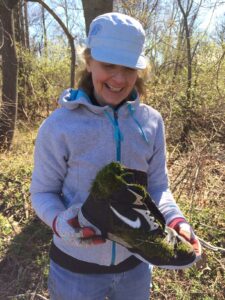 Of  COVID Times necessity,  this year's Canal Clean-Up will focus on individual and family group efforts.  The official date of Clean-Up Day is Saturday, April 10, but, taking into consideration the unusual circumstances, volunteers will be encouraged to give the Canal its spring cleaning anytime during the month of April.  
Here's how to help the Canal this spring —
On Saturday, April 10, go out to any section of the Canal and pick up trash, debris, and anything that doesn't allow the Canal to look its best.   Both on-land and by-boat clean-ups are welcome.  In fact, using canoes or kayaks is sometimes the only way to get to trash on the berm side of the Canal or hiding just below the water surface.
If you can't be out on the 10th, please work anytime the weather and your energy encourage you to do so.
For the safety of all, volunteers must comply with CDC, State and local COVID 19 precautions, including, but not limited to wearing a face mask, practicing social distancing, and following proper hygiene protocols.  (Handwashing is and was always a good idea on Clean-Up Day.)
Please wear gloves and sturdy shoes and bring along any pick-up tools that work well for you.
If you need trash bags, we can supply them.  Contactless pick-up can be done at either the Locktender's House in New Hope (call 215-862-2021 or e-mail friends@fodc.org)  or at the State Park Headquarters in Upper Black Eddy (call 610-982-5560 or e-mail kmartens@pa.gov).
If you collect things that are too heavy or unwieldy to take home for disposal, please let the Friends know the location and the Park will make pick-up arrangements.
And don't forget to take some photos to share.
The Friends have done clean-ups ever since the organization's founding in 1982, and we intend to keep up that tradition because our goal is to always be of help to the Delaware Canal.
If you have questions about these new circumstances, please call 215-862-2021 or e-mail friends@fodc.org. 
And THANK YOU for your concern!