An Almost Autumn Equinox Cruise on the Delaware River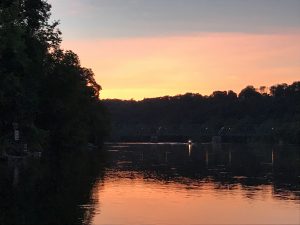 Thanks to a great response to this event, the Friends of the Delaware Canal "Almost Autumn Equinox Cruise" on September 19th  is now fully booked.  If you wish to join us, we can put you on a waiting list should anyone cancel their reservation.
This sunset cruise on the "River Otter," a 52-foot-long pontoon boat,  will take us upriver and back to view a section of the Delaware River known for its spectacular sunsets and scenery. While on board, savories, sweets, wine, beer, and soft beverages will be served. Operated by the Bucks County Riverboat Company, the "River Otter" is fully equipped with restrooms and air-conditioning.
"Life starts all over again when it gets crisp in the fall." – F. Scott Fitzgerald
The cruise will depart from Keller's Landing, 1469 River Road, Upper Black Eddy, PA 18972.
A donation of $50 per person is requested.
If you wish to be added to the waiting list, please email friends@fodc.org or call 215-862-2021.