Towpath Closed at Lower Limeport Bridge in Solebury Township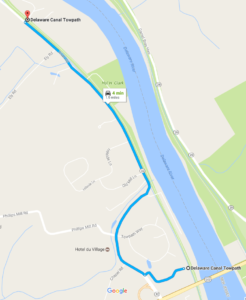 **TRAIL CLOSURE** A portion of the towpath will be closed due to construction surrounding a bridge replacement project at Lower Limeport Bridge. The closed portion is in Solebury Township between Upper Limeport Bridge and Phillips Mill Bridge, approximately 0.25 miles north of Phillips Mill. Please heed the barricades and avoid this area, or find alternate routes. Do not trespass on private property to bypass this area. For bicyclists, this section can easily be bypassed by following River Road (Route 32) for a short distance by exiting and/or entering the towpath at Upper Limeport Bridge and Canal Park in Solebury Township. Please DO NOT enter the construction zone AT ANY TIME, regardless of whether it is active or not, for your safety and that of the workers and equipment. Park officials expect the tow path to re-open by the end of April 2017.
If you have any questions or need additional information about the trail closure please feel free to contact the park office.
PA Department of Conservation and Natural Resources
Delaware Canal and Ralph Stover State Parks
11 Lodi Hill Road, Upper Black Eddy, PA 18972
Phone: 610.982.5560 | Fax: 610.982.0160
E-mail: nrspdela@pa.gov
www.dcnr.state.pa.us