Lunch and Walk
THIS EVENT IS SOLD OUT.  IF YOU WOULD LIKE TO BE ADDED TO THE WAITING LIST, PLEASE SEND AN EMAIL TO FRIENDS@FODC.ORG OR CALL 215-862-2021.
Two states, two canal towpaths, a river crossing, and lunch, too.  Join the Friends as we launch our spring season with a 5-mile, round-trip walk.  There will be new sights, intriguing history, and great food as we explore New Hope and Lambertville.
Meet by the Malcolm Crooks Bridge in Solebury Township's Canal Park.
Starting at Canal Park in Solebury Township, we will head south on the Delaware Canal towpath to Bridge Street in the heart of New Hope.  Along the way, we'll inspect the waterway clearing that the State Park has been doing and see the Borough's homes and businesses from a different perspective. Crossing the Delaware River on the pedestrian walkway is always a bit of a thrill.  When we reach New  Jersey's shore in Lambertville, we will head to the Delaware & Raritan Canal towpath and follow the way to Cavallo Park.   There we'll head inland to lunch at the Inn of the Hawke, a 19th century Italianate mansion that is now a lively restaurant and hotel.
Lunch choices may be made at the restaurant, and include: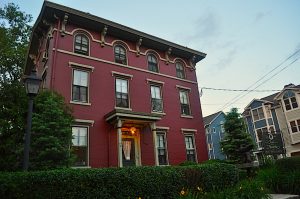 Portabella Mushroom Sandwich with roasted bell peppers, roasted red onion, provolone cheese, balsamic vinaigrette
Fish and Chips
Whiskey Fennel Sausage with sautéed onions, mashed potatoes, and grilled asparagus
Grilled Herb Chicken with mixed greens, water chestnuts, sesame sticks, cherry tomatoes, toasted sesame vinaigrette
Mac & Cheese with gemelli pasta and five cheese cream sauce
Turkey Sandwich Special
And for dessert, your choice of Bread Pudding with Crème Anglaise or Mixed Berry Cobbler
Coffee, tea and soda.   Non-alcoholic beverages may be purchased.
After lunch, we'll head to the River via Union Street and then find our way to back to the Delaware Canal and Canal Park.
Donation: $30 per person. Reservations are required. Please call 215-862-2021 or e-mail friends@fodc.org no later than March 16.
If the weather is uncooperative, we won't be walking, but we will meet at the Inn of the Hawke at noon for lunch and good conversation.