Take in Tinicum Two
The response for our first Tinicum Tour was so popular, we decided to do it again!
As always, reservations are necessary.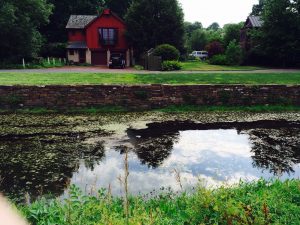 Our afternoon 2.8-mile round trip walk on the towpath will take us from the Tinicum Park to the Tinicum Aqueduct.  On our journey, we will  head south to the historic village of Erwinna, which was abuzz with enterprise when the Canal was in commercial operation. Today Erwinna is quiet and pretty as can be. One of the most handsome stone walls to be found anywhere along the Canal's length stands on the berm side here.
Scenic hillsides and towering sycamore trees will be spotted on the way to the Golden Pheasant Inn, where colorful tales of its past will be told. We anticipate seeing Lehigh River water in the Canal until we reach the wastegate south of the Inn. Then we'll head to the Tinicum Aqueduct to check out the progress of the major repairs to the structure and the banks. Knock on wood that we'll be seeing something close to the finished product. From there, we'll head back to the Park.
The walk is limited to 10 people. Please e-mail friends@fodc.org or call 215-862-2021 to make your reservations.
For our safety, we will be adhering to Green Phase restrictions and guidelines on our walk.
Masks must be worn, and we will practice social distancing.
Susan Taylor, the walk guide, will use a portable PA system, so that everyone can hear without having to huddle together.
We're looking forward to being with you by the Canal as the signs of Autumn appear!
We will meet in the rear parking lot of Tinicum Park by the Canal.  The park is located at 963 River Rd, Upper Black Eddy, PA 18972.