Tinicum Arts Festival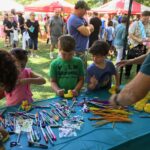 The Tinicum Arts Festival is one of our favorites.  Stop by our booth and decorate a duck.
It's a family-friendly day.
Enjoy the works of over 180 regional artists in the centerpiece Art Barn.
Delight in the creations of over 130 artists and craft artisans displayed under the trees.
Live music throughout the day on stage.  Picnic tables are available to enjoy the tasty treat of local food trucks.