THE FRIENDS OF THE DELAWARE CANAL WANT TO SHARE A STORY WITH YOU…
Welcome to Locks 22-23
also known as Groundhog Lock and Uhlersville – the village that vanished.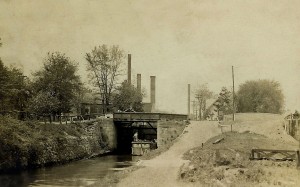 You are here (see red dot on map).

Tap here for a Google map.
Groundhog Lock
When engineers designed the Delaware Canal in the 1820's, they located two lift locks, Locks 22 and 23, here. They were the first locks that a canal boatman would encounter coming south from Easton. In 1856, when canal business was booming, the two locks were reconstructed into one double lock enabling two canal boats to pass through the lock at the same time. The origin of the name "Groundhog Lock" has been lost, but there is no shortage of the little furry creatures around here.
Uhlersville
It's hard to imagine today, but a thriving village once surrounded Groundhog Lock. Peter Uhler was a local farmer until his land was selected as the site of Locks 22-23. With his business sense fueled, he transformed his farm into a village in a very short time. Uhler used a diversionary channel to harness canal water to power a sawmill and a gristmill. A whiskey distillery, a malt production works, and a paper mill were added to his enterprises later. A limestone quarry was cut into the hill above the Canal and lime kilns constructed nearby. A hotel and tavern, a church-school, a coach and carriage business, worker housing, and Peter Uhler's own mansion completed the village of Uhlersville. During the Civil War years, 150 people lived here. Business downturns of various sorts brought Uhlersville into decline, and a devastating fire in 1930 spelled its end.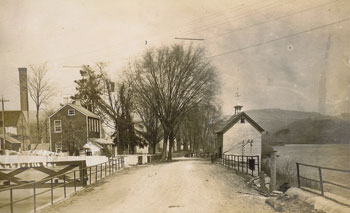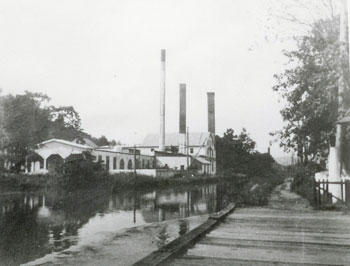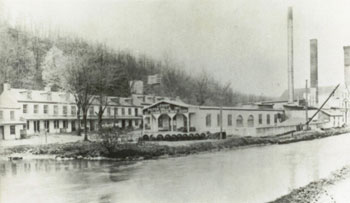 This page was funded by a grant from the Bucks County Conference and Visitors Bureau.