THE FRIENDS OF THE DELAWARE CANAL WANT TO SHARE A STORY WITH YOU…
Welcome to Lumberton and Delaware Quarries
You are here (see red dot on map).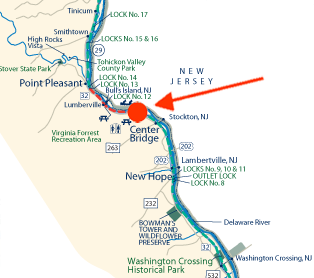 Coal Wasn't the Only Cargo
Most of the mule-drawn boats used on the Delaware Canal were filled with anthracite (hard) coal, but stone was another important cargo.
In the summer, locals would pull water-rounded stones, called boothers, from the Delaware River. The stones was transported to the Canal, loaded on boats, and carried to the cities where they were used to pave the streets.
Local stone quarries also used the Canal for transport. Here at Lumberton, mining and cutting stone became the local industry by the time the Canal opened in 1832. As many as 200 men worked for the Lumberton Freestone Quarry Company. They cut sandstone and fieldstone that was shipped via the Canal or slung into a wooden container that was conveyed on wire-rope tramway across the Delaware River to be loaded on the Belvidere-Delaware Railroad in New Jersey.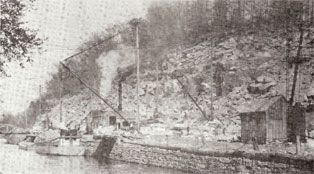 It is said that some of the stone used to build the Reading Terminal in Philadelphia in the early 1890's came from the Lumberton Freestone Quarry Company and was carried on the Delaware Canal.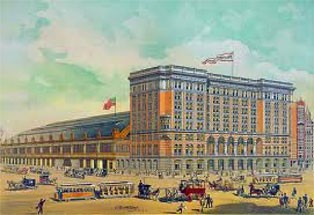 Delaware Quarries, Inc. still operates today, mining the hillside and importing a wide variety of other building and ornamental stone.
This page was funded by a grant from the Bucks County Conference and Visitors Bureau.