THE FRIENDS OF THE DELAWARE CANAL WANT TO SHARE A STORY WITH YOU…
Where Does the Towpath Trail Go From Here?
You are here (see red dot on map).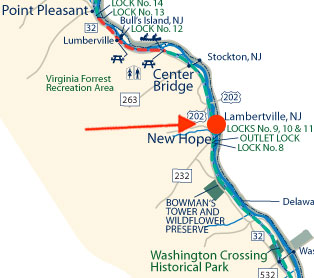 No, the canal towpath does not end here! Please watch the video to learn how to return to the towpath trail as it resumes just south of here and continues for 24 miles – to Washington Crossing, Yardley, Morrisville and all the way to Bristol.
Video created and produced by Yardley TV.
This page was funded by a grant from the Bucks County Conference and Visitors Bureau.