The Lehigh River Water is at the Virginia Forrest Recreation Area
April 4, 2016
Last week the Lehigh River water reached Point Pleasant.  Last Sunday it had made its way to Lumberville, and today is just north of the Virginia Forrest Recreation Area.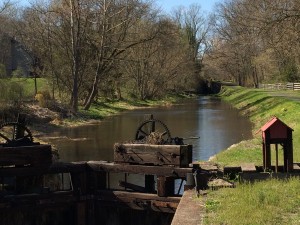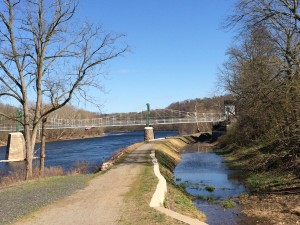 New Pump at Centre Bridge Installed
March 30, 2016
The new pump was installed in the Delaware River at Centre Bridge this morning. It's pumping away nicely with about a foot of water accumulated in back of the Centre Bridge Inn in about an hour. It will produce a greater volume of water more efficiently. The installation is a collaboration among the Friends of the Delaware Canal, New Hope for Our Canal, and PA Department of Natural Resources.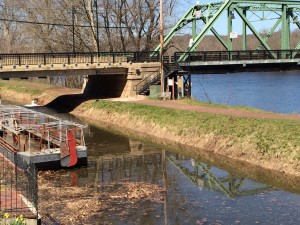 Towpath Closed Between Centre Bridge and the Virginia Forrest Recreation Area
March 28, 2016
The Redfield Bridge replacement project has necessitated the closure of the towpath between Centre Bridge and the Virginia Forrest Recreation Area.   It will be reopened as soon as the contractor can move away from the towpath.
Park Staff Cleans Out Below Bridge 3
March 23,2016
As the Delaware Canal Park staff cleans out the prism below Bridge 3 in Smithtown, the Lehigh River water is being diverted out a waste gate at Bridge 4.   The clean-out is expected to be finished today.  The waste gate will be closed, and Lehigh River water should progress southward.
Uhlerstown Repair Finished
March 11, 2016
The Park staff completed the installation of a section of bentomat lining in Uhlerstown yesterday.  The waste gate at Lodi was closed late yesterday afternoon, and the Canal is being slowly refilled section by section heading southward.
Small Repair Project in Uhlerstown Begins
March 8, 2016
The State Park staff started the minor repair project in Uhlerstown today.  It is anticipated that it will be finished tomorrow.
Water Levels Rising from Easton to Lodi
February 22, 2016
The Park staff has finished repairing the towpath bank subsidence north of Mueller's Store and Restaurant and Lehigh River water again is flowing into the section between Easton and Lodi/Lock 19/ State Park Office.
Water Level Drops in Riegelsville
February 11, 2016
Park Manager Rick Dalton reported this morning. " There seems to be a hole forming near Mueller's General Store and Restaurant as is evidenced by some  subsidence along the towpath. We are lowering the level for repair,which hopefully can be handled quickly by our staff next week."