Please Make a Special Year-End Contribution to the Friends
Please contribute to the Friends' Year-End Appeal that fuels Canal improvements and sustains our organization.
The Delaware Canal and the towpath once again proved to be a sought-after refuge in the time of COVID, with a continued increase in visitors to the Park. We are blessed and fortunate to have this 58.9-mile ribbon of extraordinary scenic beauty and calming green space in our backyards.
To help the Friends fund more projects, advocate on the local, state, and federal levels; support volunteers; teach; innovate; and embrace new opportunities, we ask you to include the Friends in your year-end giving.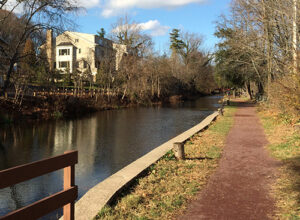 The storms of 2021 took a toll on the towpath as well as some Canal structures. The work needed to make repairs will continue well into 2022.
The State Park staff has a full list of projects and will be challenged to get it all done. So, the Friends plan to lend a hand and take advantage of the low water levels to help improve the overall condition of the Canal. We intend to hire a private contractor to remove invasive plants which have undermined the flow of water and user access.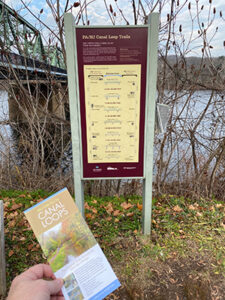 Our efforts to enhance how visitors and neighbors experience the Canal are ongoing. We recently installed updated Canal Loop signs and rack cards to reflect the latest "loop" addition which encompasses the new Scudder Falls Shared-Use Path.
Our quest to restore and maintain the Canal's most authentic and iconic bridges, which began in 2002, moves forward as we resolve to help restore the last remaining camelback bridge, Spahr's Bridge in Upper Black Eddy.
We appreciate your concern and dedication. You help make the Friends a strong, vibrant, and influential organization.
As we bid 2021 farewell, we thank you for your continuing support and ask you to invest in the work ahead by making a special contribution.
Please Make a Donation
Happy Holidays! We look forward to another productive year.
Brett Webber, President                    Michael Ginder, Executive Director
Save