Please Make a Special Year-End Contribution to the Friends
Please contribute to the Friends' Year-End Appeal that fuels Canal improvements and sustains our organization.
Let's take advantage of the Canal's current state. While the water levels are low to allow three capital projects to finally get underway, the Friends want to repair the historic Thompson-Neely Camelback Bridge.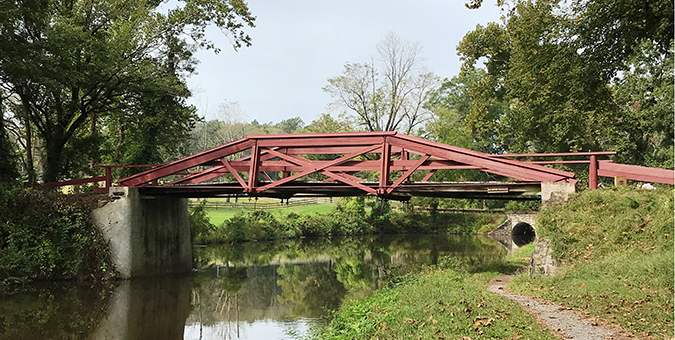 Our quest to maintain and restore the Canal's most authentic and iconic bridges began in 2002 and goes on, in the way that all endeavors with old structures do. Five bridges have been restored since then. Now, with the discovery of significant deterioration of its main beams and posts, the Thompson-Neely Bridge, repaired in 2008, needs to be tackled again. It's a complicated job, and the cost will be $78,000. 
In the spirit of the quest, we ask you to invest in the Canal's most visible and highly used camelback bridge and all the work that we will continue to accomplish together. 
The time is right to invest. 
The water level in the Canal is already low, and winter allows better access to the canal prism where work must be done below the bridge structure. 
Our one-of-a-kind contractor is available to work on this right away.
The repair can be finished in time for spring. 
Our Executive Director will contribute $5000 in matching funds in faith that our work can continue with the sustaining help of Friends' members. 
Please Make a Year-End Donation
Your Contribution Also Supports On-Going Canal Improvements
We are focusing on the Thompson-Neely Camelback for our year-end appeal because of the timing, but your contribution will also assist with our on-going Canal improvements, such as the long-awaited installation of a large centrifugal pump to augment water flow in the southern end of the Canal. 
As evidenced in issues of Canal News and our website, the investments you made last year paid off. Huge trees were removed from the Canal, twenty-two new interpretive signs are in place,  and enhancements to the waterway and towpath trail have been made. The Canal Action Team volunteers received the supplies that they needed. Our Canal Tenders program grew, clean-ups large and small were undertaken, the Locktender's House was repaired and painted, and thousands of people were educated.  We are so grateful for your ongoing support and encouragement!
To help the Friends fund the Thompson-Neely Camelback Bridge repairs and other projects, to advocate, nurture volunteers, teach, and innovate, we ask you to include the Friends in your year-end giving. 
We truly appreciate your concern and dedication. All of you help to make the Friends a strong, vibrant, and influential organization. As we bid 2019 farewell, we THANK YOU for your continuing support and ask you to invest in the work (and play) ahead by making a special contribution. 
Happy Holidays!
We look forward to a productive new year.  
Brett Webber, President                           Susan Taylor, Executive Director 
Save
Save
Save
Save
Save
Save
Save
Save
Save
Save
Save
Save
Save
Save
Save