Spring Peeper Walk
There are unmistakable signs that spring has sprung along the Canal …. the Bucks Beautiful daffodils popping up along the towpath, the return of the warblers, nesting waterfowl, and the unique and boisterous sound of spring peepers.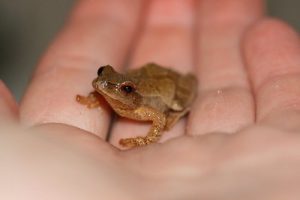 Last year we had our first evening walk to hear the spring peeper chorus.  It was an adventure because one never can be sure where the peepers are and whether they are in the vocalizing mood. We walked; we perked up our ears; and we were rewarded.   It was fun and the sound magical, so we're going to try another pop-up walk this spring.
Spring peepers are tiny amphibians that are about 1 inch long.   Well camouflaged and rarely seen, they are tan or brown in color with dark lines that form an 'X' on their backs.   They are nocturnal creatures hiding from their many predators during the day and emerging at night to feed on ants, flies and spiders.  Spring is mating time when the amorous males make a lot of noise to attract females.   The spring peeper chorus can go on each evening for a week or more.
Since peeper activity isn't exactly predictable, we'll set the date and time for the Spring Peeper Walk when they give us the signal.  The roundtrip walk could be as long as 2.8 miles, depending upon where the peepers are hanging out.  The details will be posted on the Friends of the Delaware Canal Facebook page and www.fodc.org.   A Constant Contract message also will be sent.   To make sure that you receive the news, " like" the Friends on Facebook or send us your e-mail address, which will be added to our Constant Contact list.
Come hear Spring Peepers for yourself and take in the mysteries of the Canal at night.
Meet at the Black Rock Road Picnic Area, at the intersection of Black Rock Road and the Canal in Yardley, PA 19067