Up on the Dike and Down on the Towpath in Morrisville
Discover the Borough of Morrisville, see the Falls of the Delaware, and be dazzled by the glowing gold dome of Trenton's state capitol building.
Our 2-mile roundtrip walk route will encompass both the scenic River Dike trail and the Delaware Canal towpath.  Morrisville is the only town along the Delaware River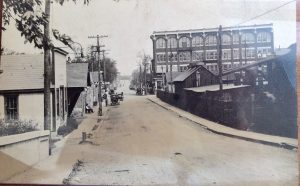 in Bucks County that has a dike protecting it from flooding.  The dike serves its intended purpose well and also provides a popular pedestrian pathway with impressive views of the Delaware River and the Trenton skyline.
On top of the dike, you will learn why the Falls of the Delaware is such an important location and will hear stories of Morrisville's past – from its 1624 settlement as a Dutchh West India Company Trading post to the growth spurt that accompanied the opening of the Delaware Canal.
Descending from the dike, walkers will head to Bridge Street and see the statue of Robert Morris, for whom the town is named.  Morris, America's founding capitalist and financier of its Revolution, lived in Summerseat, the colonial era mansion on the hill, now restored and open to the public for special occasions.
When the towpath is reached, the walkers will see how progress has changed the Delaware Canal and hear about life on the waterway while heading back to the Actors' NET Theatre.
Meet outside the Actors' NET of Bucks County Theatre, 635 North Delmorr Avenue, Morrisville, PA 19067 (Parking is available across the street at the base of the dike).