In Search of Bald Eagles and More
On this 5-mile round-trip walk, we have high hopes of spotting majestic birds soaring, perching, and nesting.  Bald eagles and another type of endangered species already have been spotted out on the River island and up on the cliffs, and the tree foliage shouldn't be too far advanced to obscure the view.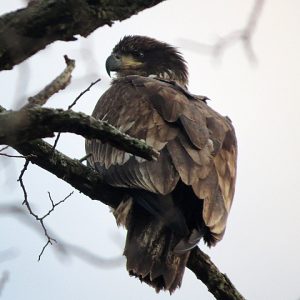 Our favorite nature photographer and birder Carole Mebus will accompany us on the walk and share her experiences of photo-documenting bald eagles at this location.  She has captured images of eagles in flight, perched on their favorite sycamore tree, taking dips in the River, and, best of all, nesting.  The photos of eaglets peeping from the nest and juveniles showing off their adolescent attitude have been Facebook favorites.
If there are eagles and other birds to see, it is likely that they will be at a distance, so please bring along your binoculars.   If you don't have a pair, the State Park kindly has provided
us some to lend for the outing.
Birds won't be the only attraction on the walk.   Our trip will begin at the Durham lock and aqueduct where there are so many stories to share from iron-making to Durham boats, to caves occupied by Native Americans and bats.  We will follow the towpath south past Trauger's Farm Market to the Gallows Run Aqueduct, named for either a prominent resident or a failed suspenders incident, depending upon the source.  There the dramatic Nockamixon Cliffs come into full view.  Rising straight up 300 feet, their waterfalls and wildflowers make them especially beautiful in the spring. Lock 20, where we will envision the mill, covered bridge and other buildings that once stood on the site, will be our turnaround point.  On our return trek, we will take in the northbound sights.
See the eagles fly with us!
Meet at the Durham Lock parking area, 1407 Easton Road (Route 611), Kintnersville, PA 18930 (the parking area is adjacent to the intersection of Routes 611 and 212).