Towpath Section Closed After Bank Collapse, Water Level to Drop
August 21, 2015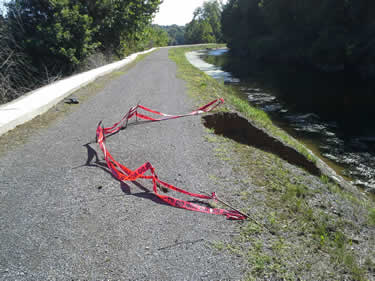 Today's update on the towpath bank collapse in Easton: The collapse is located approximately one mile north of Wy-Hit-Tuk Park. The opening is approximately 10 feet wide and extends from the Canal water line toward the River wall about 12 feet.
The Park has CLOSED THE TOWPATH FROM THE FORKS OF THE DELAWARE IN EASTON TO WY-HIT-TUK PARK. To prevent further erosion, the gate at the Lehigh River will be closed and the water level in the Canal will drop.
The Park will be on alert for stranded fish and other aquatic life. If you see any creatures in distress, please send out an alert. Everyone is seeking a solution. The Canal isn't catching any breaks so far this year.