POP-UPs This Winter
January 8, 2019
Last winter, bad weather foiled nearly all of our attempts to get outdoors on the Delaware Canal. So, this year, we're going to try a different tactic.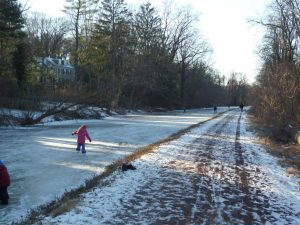 Rather than scheduling dates in advance, we're going to do POP-UP activities. When the forecasters say that the skies will be sunny, the temperatures above frostbite, and the winds relatively calm OR we have a perfect snowfall, we'll send out a message letting you know what we'll be doing and where we'll be doing it along the Canal's length. We might be hiking. We might be cross-country skiing or snowshoeing or maybe something completely new. (Wouldn't it be great to have a skating party?)
We'll be waiting for the right opportunities and will notify you with the details by sending an e-mail message and posting on the Events page and our Friends of the Delaware Canal Facebook page.
Here's hoping for lots of fun on the Canal this winter.