Water Makes it to Mountainside Inn
August 6, 2014
The water has made it to the Mountainside Inn on the south end of Point Pleasant.
Water Heads Toward Point Pleasant
August 5, 2014
After a retreat northward caused by blocked wickets at Locks 22/23, the water is headed southward again. It has passed Bridge 1 and is headed toward the center of Point Pleasant.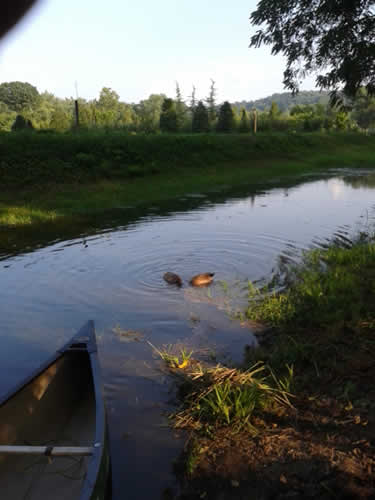 Canal Water is Rising
July 30, 2014
The water temporarily reached a point several hundred yards south of Bridge 1 in Point Pleasant as a result of a surge caused by opening the bypass at Locks 15/16. Now its back to being on its way to Bridge 2.
Meanwhile, the water level south of the town of New Hope has been low for several days because masons are repairing the bottom of a stone wall at the Waterworks condos in New Hope. The Park staff opened the waste gates at Bowman's Hill to lower the water, but now have closed them. The water is now rising.