Towpath Trail Closed South of Groundhog Lock
November 5, 2014
The Delaware Canal State Park has announced that the towpath trail in the area of the PennDOT wall project, located just south of Groundhog Lock aka the Theodore Roosevelt Recreation Area in Raubsville, has been completely closed to pedestrian and bicycle traffic, including weekends. Chainlink fence barriers have been erected. Please use other areas of the towpath trail while this project is ongoing. Completion is still anticipated by January 2015.
Pump at Durham Shut Down
November 4, 2014
The pump at Durham has been shut down to allow the repair of the bypass at Lock 20 south of Kintnersville. The length of this project will be determined after the bypass pipe is fully evaluated.
Progress Made on Wall Installation
October 23, 2014
Progress is being made on the wall installation project at Locks 22/23 in Raubsville.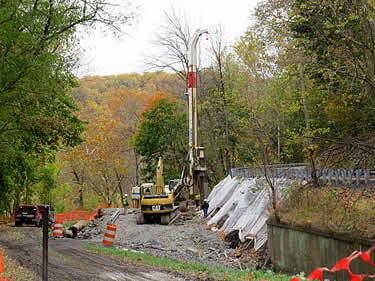 Durham Pump Water Reaches Lock 19/Lodi
October 14, 2014
The Durham pump water has made it to Lock 19 / Lodi. The flow is being blocked from heading any farther south, so that the northern level can build in depth.
Durham Lock Pump Working
October 8, 2014
The pump at Durham Lock is back on.