Water Retreats From Point Pleasant
August 13, 2014
The water has retreated from Point Pleasant because of several factors related to water flow from Easton. The wickets at Locks 22/23 in Raubsville were severely clogged again. The Park maintenance staff did a major clean-out yesterday. The photos that follow are after clean-out shots.
Also the Park had to discontinue running water through the bypass at Lock 20 near the Nockamixon Cliffs. The condition of the bypass threatened to compromise Rt. 611 / River Road. The water will now be run through the cutout in the bulkhead at Lock 20. In order to do so, the water level to the north has to build up to the level of the cutout. This shouldn't take too long.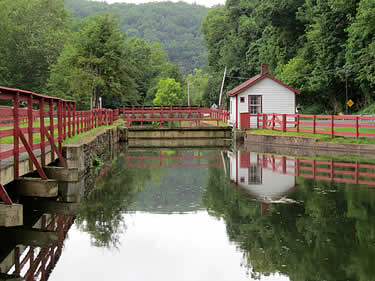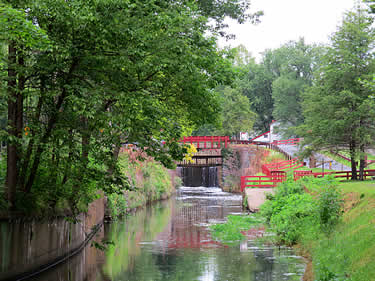 Centre Bridge Pump Back in Action
August 8, 2014
Erase the bad news. Just got word that the Centre Bridge pump is back in operation and may even work better than before!
Water Reaches Devil's Half Acre; Pump Quits
August 7, 2014
Good news and bad news. The good news – the leading edge of the water has reached Devil's Half Acre north of Lumberville. The bad news – the pump at Centre Bridge stopped operating today. The Park brought in the pump repairman immediately. With expert work and luck, it will be operating again tomorrow. Cross your fingers for the luck part.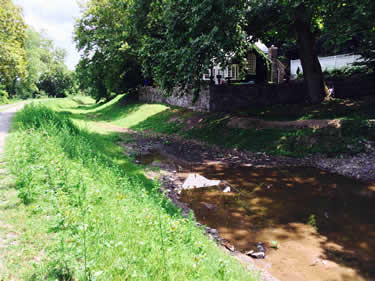 Water Makes it to Mountainside Inn
August 6, 2014
The water has made it to the Mountainside Inn on the south end of Point Pleasant.
Water Heads Toward Point Pleasant
August 5, 2014
After a retreat northward caused by blocked wickets at Locks 22/23, the water is headed southward again. It has passed Bridge 1 and is headed toward the center of Point Pleasant.