Nockamixon Cliffs Area Closure
Beginning tomorrow, February 1, a major portion of the Nockamixon Cliffs area of the park will be closed to all activity, including ice climbing. Visitors to the area may still park in the roadside lots and use the towpath as normal. Closed areas are posted with signage.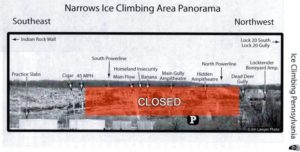 Public cooperation is much appreciated during this closure, which first began in 2016. Since then, the cliffs have been closed annually between Feb 1 and July 31.
As a reminder, the Nockamixon Cliffs are a designated Natural Area. This special designation is an area within a state park of unique scenic, geologic, or ecological value which will be maintained in a natural condition by allowing physical and biological processes to operate usually without direct human intervention. Title 17 Chapter 17, (Conservation and Natural Resources) of the Pennsylvania Code provides some additional information on the designation and administration of these lands. Ice climbing is allowed when conditions permit, outside of the closure time frame. During the closure, some established climbing routes on either end of the closed area will remain open, including "Dead Deer Gully" and "45 MPH".
If there are any questions, please call the park office at 610-982-5560.