Nockamixon Cliff Closure
Beginning February 1, a significant portion of the Nockamixon Cliffs area of the park will be closed to all activity, including ice climbing.  As in previous years, the closure is in effect for the protection of endangered species.  Visitors to the area may still park in the roadside lots and use the towpath.  Closed areas are posted with signage.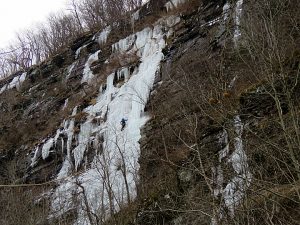 The annual practice of closing the cliff area between February 1 and July 31 began in 2016.  The Nockamixon Cliffs are a designated Natural Area and are home to unique and rare sub-alpine vegetation and other species.  Protecting the cliffs ensures the future viability of the area, so recreational activities like rock climbing are prohibited.
Ice climbing is allowed when conditions permit, outside of the closure time, because fragile vegetation is protected under the ice from human activity.  During the closure, some established climbing routes on either end of the closed area will remain open, including "Dead Deer Gully" and "45 MPH".
If you have any questions, please call the Delaware Canal State Park office at 610-982-5560.