Saturday, June 9 | 4:00 PM
Lock 5 in Yardley
It's back!    Yellow rubber duckies haven't been seen in the Canal since 2014, but they're returning this year for another Great Yardley Duck Race.   You just can't keep a racing duck out of water.   The Race is sponsored by the Friends of the Delaware Canal and will benefit our Canal improvement efforts.  It will be part of Yardley's Second Saturday activities and be followed by a Music on Main concert.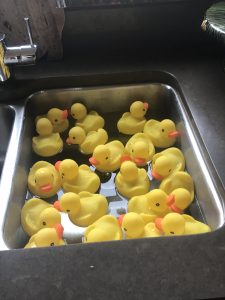 Want to get in on the fun?
Buy your racing duck at our table at:
Yardley General , 14 South Main Street on May 12th  and June 9th  from 3 to 7 p.m.
Yardley Farmers Market in Buttonwood Park on May 26th, June 2nd, and June 9th from 9 a.m. to 1 p.m.
Duck Donation – $5 each or 5 for $20.
Give your duck a name so that you can cheer it on.
Start its training in your kitchen sink.  All ducks don't take to floating naturally, so starting in a "small pond" is good.  Beware of oil slicks and dish detergent bubbles.  Then move on to the bathtub – the big time.
If you would like to decorate your duck, use only permanent markers.  It wouldn't be fair to use attachments or accessories.
All ducks must make their way back to the race starting point at the Letchworth Avenue Bridge on June 9.  If you don't want to train your duck, you may leave it behind when you purchase it or bring it back to the Friends' table on the May 12th  Second Saturday.   (These ducks will make it to the starting line – guaranteed.)   On June 9, the ducks may be returned to the Friends' table set up in Buttonwood Park from 9 a.m. until 1 p.m.
On Race Day, make your way to the towpath between Letchworth Avenue and Lock 5.  The ducks will be launched from the Letchworth Avenue Bridge and the finish line is at Lock 5.
Watch those ducks float on down to the finish.  Cheer! Cheer!  Cheer!   The first, second, and third place winners will receive interesting prizes.
If you would like your duck back, please retrieve it from the canal bank at Lock 5 when the race is over.
Good luck with your racing duck!
Watch from the Canal towpath between Letchworth Avenue and Lock 5, Yardley, PA 19067.   Easy accesses to the towpath are at Afton Avenue and College Avenue.