Tuesday, March 13, 2018 | 7:30 PM
The David Library of the American Revolution
Will Rivinus first walked the entire length of the Delaware Canal in 1963.  Susan Taylor did her first end-to-end in 1991.   Between the two, they have accumulated 82 years worth of knowledge and tales about the waterway and its surroundings.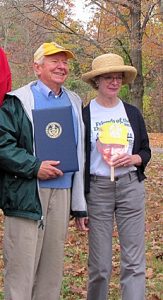 Traditionally one would have to participate in the Friends' annual Canal Walk to hear Will and Susan's full array of stories, but our March program offers you the opportunity both to hear them and see great photos of the Canal all without walking any farther than from the David Library parking lot to your seat in the auditorium.
The photos that you will be viewing are a compilation from the Friends' travelling Delaware Canal Show, Will's Delaware Valley University adult school program, and Susan's presentation to the Canal Society of New York State.   It's a good assortment, including illustrations of how the Canal has recovered from the floods.   As for the narrative, Will and Susan have so much in their heads, they've had to promise to keep it short – unless the story is particularly tantalizing.
Take this special opportunity to explore the Canal with Will and Susan.
The program will be held at  the Feinstone Conference Center at the David Library of the American Revolution, 1201 River Road, Washington Crossing, PA 18977.