Sunday, July 14 | 3:00 PM
Point Pleasant, PA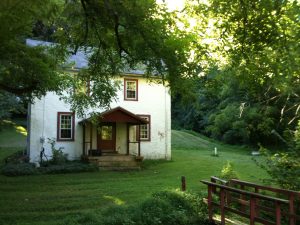 North of Point Pleasant there is a group of homes set in a narrow strip of land between the hillside and the Delaware River.  While driving along River Road, it's easy to underestimate its size.  Today the US Postal Service calls the area "Pipersville," but locals know it by its historic name, "Smithtown."
On this 4-1/2-mile round-trip summer stroll on the towpath, we'll explore Smithtown and find out about its intriguing past.
Joseph Smith, an enterprising man, settled on this "forbidding spot along the banks of the Delaware River" in 1784.  He established a gristmill, a sawmill, a blacksmith shop, and plow-making shop, along with four houses.  The businesses thrived, and the "forbidding spot" became Smithtown.  Then along came the Delaware Canal in 1829.  The industrial buildings blocked its route and were demolished.   Locks 15 and 16 and a locktender's house were constructed, and the town became a layover stop for canal workers and their mules.
The Friends recently installed a new wayside interpretive sign at the lock in Smithtown.  We were able to undertake this project thanks to a generous    contribution from Margaret Copenhaver, in memory of her husband Tom.  The Copenhavers enjoyed living in Smithtown for many years.   During the development of the sign, we came upon a wealth of information about Joseph Smith, which will be shared during our walk, including his sale of a mould-board plow of his own invention to President Thomas Jefferson.
Join us for a stroll through time and discover what makes Smithtown such an interesting and scenic place along the Delaware River and Canal.
Meet in the parking lot at #2 Bridge 2 Lane, Point Pleasant, PA 18950.
The Stroll is free and reservations are not required.  Contributions are very welcome and go towards Canal improvement efforts.