Sunday, April 18, 2021 | 1:30 PM
I-295 Park and Ride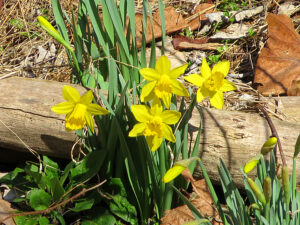 Beauty comes in different forms.
On this 2-mile-long roundtrip walk, you can take in the Canal's beauty at Lock 7.  Daffodils dance on the towpath bank, and trees will be blossoming. The Lock with its stone walls restored by the Friends, the little board and batten shanty, and the locktender's house will complete the spring scene.
Another kind of beauty shows itself at the 1799 House sitting by the Canal at Woodside Road. This historic stone house was purchased by the Delaware River Joint Toll Bridge Commission as part of the Scudder Falls Bridge project. The house has been sensitively rehabilitated and serves as a restroom facility for Canal visitors. Having a new bathroom facility near the Park, in a saved historic structure, no less, is a beautiful thing.
The Spring Beauty Walk willj be led by veteran Canal Walker Jeff Connell, who serves on the Friends' Board of Directors.  He will share the story of the Scudder Falls Bridge pedestrian pathway, which will be the seventh river bridge crossing connecting the Delaware Canal towpath to the D&R Canal towpath in Ewing, NJ. Along the way to Lock 7, he will point out the recently replaced 9-11 memorial bench and a wildlife haven.
To discourage the spread of COVID, these walks will be limited to 20 people, masks must be worn, and physical distancing encouraged.
Reservations are required.  Please call 215-862-2021 or e-mail friends@fodc.org.  
The I-295 Park & Ride lot is located at 1140 Woodside Road, Yardley, PA  19067.
Hope to see you!