Sunday, August 26, 2018 | 4:00 PM
Parking lot at the intersection of Taylorsville and Mt. Eyre Roads, Yardley
A new I-95 bridge is being built across the Delaware River at Scudder Falls. The gargantuan project started a year ago and won't be complete until 2021. The new bridge structure will span both the Delaware Canal in Pennsylvania and the Delaware and Raritan Canal in New Jersey and includes a pedestrian/bike way with connections to both canal towpaths.  Join us for a Late Summer Saunter along the towpath to get a firsthand view of the current state of the project, as well as see two canal locks.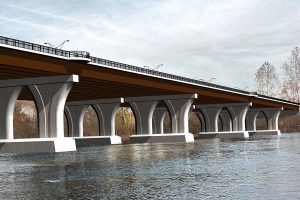 First up on this 2.4-mile round-trip walk will be the Dyer's Creek waste gate and overflow south of Mt. Eyre Road, to learn about the vital functions of these structures; then on to Lock 7, aka Borden's Lock. The stone walls of Lock 7 were meticulously restored by the Friends more than a decade ago. The workmanship is well worth admiring as well as the spirit and conviction of the mason who re-laid each stone. Lock 7 is also home to the Delaware Canal State Park Maintenance Area, which has some interesting stories all of its own.
The existing Scudder Falls Bridge and the sprawling new bridge construction site come into view as we cross Woodside Road. Take this opportunity to see the project up close and find out what's to come, including a new Delaware River Joint Toll Bridge Commission headquarters, towpath trail connections, and comfort facilities in the 1799 House.
Next up is Lock 6, aka Lear's Lock, which is our turnaround point. Hear some of the colorful tales told by Chester Lear, the son of Lock 6's last locktender.  On our way back to Mt. Eyre Road, we'll check out the sights that we may have missed on the way south. 
Take this opportunity to be in the know!
Meet in the parking lot at the intersection of Taylorsville Road and Mt. Eyre Road, Yardley, PA 19067.