Thursday, May 9, 2019 | 2:00 - 4:30 PM
The May 9th sail is SOLD OUT.  If you would like to be placed on the waiting list, please call 215-862-2021 or e-mail friends@fodc.org.      
Is sailing aboard a tall ship on your bucket list? Would you like to see how the Delaware River shoreline looks from the water? Have you ever wanted to help hoist a huge sail?
The Friends have just the adventure for forty of you.
Our first sailing event scheduled for May 10th sold out within three days, so we have chartered the Schooner A. J. Meerwald, New Jersey's official Tall Ship, for a  second sail on the Delaware River starting at the new dock in Historic Bristol Borough.
As we travel south, Burlington Island, the scenic waterfront of the town of Burlington, NJ, and the Burlington-Bristol Bridge will come into view. The crew will invite you to help hoist the Meerwald's sails, if you're up for it.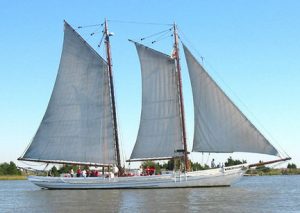 Coming about, we'll sail along the Bristol Borough shoreline, which has often been likened to a picturesque New England village. If you've thought that the buildings along Radcliffe Street are impressive from the land, wait until you see them from the water.
While we are sailing, the crew will tell us about the history of the A. J. Meerwald.  She is a restored oyster dredging schooner. Launched in 1928, she was one of hundreds of schooners built along South Jersey's Delaware Bay before the decline of the shipbuilding industry during the Great Depression. Her commercial use evolved over the years, ending in the late 1970's with clam dredging.
Today, the A. J. Meerwald's home port is Bivalve, NJ.  After extensive restoration, she now is used by the Bayshore Center at Bivalve for onboard educational programs in the Delaware Bay and River and Atlantic Coast. She was added to the National Register of Historic Places in 1995.
Join us for this Tall Ship adventure, and then head uptown to one of the many dining destinations in Historic Bristol Borough. It's a food mecca these days.
Donation: $75 per person. Onboard water, soda, and snacks included.
Board at the Bristol Wharf, 100-148 Basin Park, Bristol, PA 19007.
Space is limited to 40.  Please make your reservations early!
Sail on a Tall Ship II – Get Tickets
Tickets to sail on the Schooner A. J. Meerwald on Thursday, May 9 are $75 per person. If you are ordering more than two tickets, please enter the total amount for your purchase.