Sunday, September 15 | 10:00 a.m. - 3:30 p.m.
Upper Black Eddy, PA
WAITING LIST ONLY.
Join the Friends and the Delaware Canal State Park naturalists for our first ever Pedal & Paddle!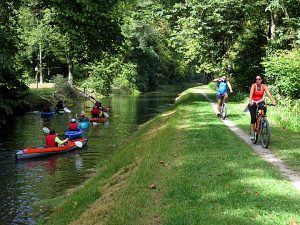 The day will begin with a leisurely, guided bicycle ride south along the towpath to Locks 15/16 in Smithtown. After a short break at the turn-around point, we will ride back to Tinicum Park, a 7-mile round-trip.   There we will have a bring-your-own lunch in the covered picnic pavilion.
After lunch, we will take to the water for a 3-mile paddle to Uhlerstown and back.  At the "best preserved hamlet in America," we will pass under the only remaining covered bridge over the Canal and into Lock 18.  Susan Taylor will share some of the town's tales.
Tips for the day –
You must bring your own bicycle and helmet to this program.  Helmets are required to participate in the Pedal and Paddle.
The Park has kayaks to lend to those who make reservations to borrow them.   At this time, there are no Park kayaks available.  If you would like to be placed on the waiting list, please contact us at  friends@fodc.org or 215-862-2021.    
You may also choose to bring your own kayak or canoe and personal flotation device.
Please pack a lunch and bring plenty of water. You can leave your lunch in your vehicle while we are on the ride.  The Friends will provide dessert.
Don't forget to bring a pair of comfortable shoes suitable for paddling.
Registration is required for this activity whether you plan to bring your own or borrow a boat.  Please do so early by contacting us at 215-862-2021 or e-mailing friends@fodc.org.  If you are planning to use Park equipment, a $10 per person donation is requested payable on the day of the event.  Reservations are accepted on a first-come, first-served basis.
Meet at Tinicum Park, 963 River Road, Upper Black Eddy, PA  18972.  When entering the Park, follow the roadway back to the parking area closest to the Canal.