Saturday, August 24, 2019 | 10 a.m. - noon OR 1 - 3 p.m.
New Hope, PA
WAITING LIST ONLY.
As summer winds down, take in both the Delaware Canal and our country's Revolutionary War history from a new, in-water vantage point.  From the launch site at the Pidcock Creek overflow, we'll venture south past the Soldiers' Graves to the Bowman's Hill stop gate.  After turning around, we'll head north by the Thompson-Neely House and under one of the six remaining camelback bridges on the Canal.  Then we'll paddle through the echoing culvert to the scenic widewaters that lead toward the town of New Hope. We'll stop short of town and enjoy the scenery and wildlife on the way back.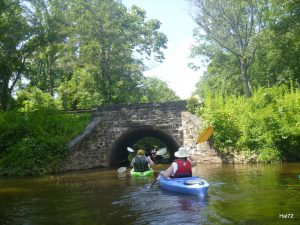 Delaware Canal State Park naturalists Katie Martens and Gabie Lent will be leading both the morning and afternoon sessions. You may bring your own kayak or canoe and personal flotation device.  At this time, there are no Park Park kayaks available to borrow.   If you would like to be placed on the waiting list, please e-mail friends@fodc.org or call 215-862-2021. 
Meet near the General Sullivan Picnic Pavilion in the northern section of Washington Crossing Historic Park.  Use the park entrance on River Road opposite Aquetong Road in New Hope, and then travel over the Canal to the parking area between the Canal and the River.
Registration is required for this activity whether you plan to bring your own or borrow a boat.  Please do so early by contacting us at 215-862-2021 or e-mailing friends@fodc.org.  If you are planning to use Park equipment, a $10 per person donation is requested payable on the day of the event.  Reservations are accepted on a first-come, first-served basis.