Sunday, July 30 | 1:00 - 3:00 PM
Black Rock Road Picnic Area in Yardley
All the Park kayaks have been reserved for both the morning and afternoon sessions.   If you would like to be placed on the waiting list, please call or e-mail using the instructions below.  You are still very welcome to join in the paddle using your own kayak or canoe.
Once again we've been able to schedule three, ever-popular paddling programs in cooperation with the Delaware Canal State Park education staff, even though the "staff" is down o just one very hard-working person.  You'll have six opportunities to see the Delaware Canal from the vantage of the water, and you don't even have to own a boat to do so.
State Park Educator Katie Martens will be leading two sessions of paddling on July 30 and has equipped kayaks ready to be loaned. These sessions are perfect opportunities to find out whether kayaking is for you.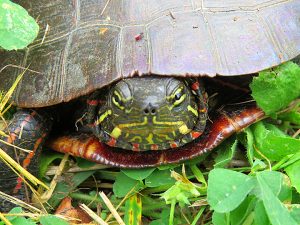 The leisurely 1-1/2 hour paddling adventure will head south from Black Rock Road through the widest of the Canal's widewaters. Trees tower overhead where mule-drawn canal boats pulled over to the side to get out of the way of "traffic" in the 1800 and 1900's. Today herons, turtles, ducks, geese, frogs and fish all call the widewaters home.
You may bring your own canoe or kayak and personal flotation device or you may borrow one of the equipped kayaks that the Park will have on hand.  There are 16 seats available in 12 single kayaks and 2 tandems.
Registration is required for this activity.  
You may sign up by contacting 215-862-2021 or friends@fodc.org   If you are planning to use Park equipment, a $10 per person donation is requested.
The Black Rock Road Picnic Area is located at the intersection of Black Rock Road and the Canal in Yardley.
See you on the water at the widewaters!