Sunday, July 29, 2018 | 10:00 a.m. - noon or 1:00 - 3:00 p.m.
Washington Crossing Historic Park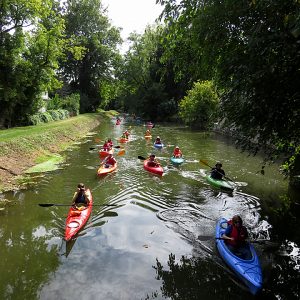 ALL PARK KAYAKS HAVE BEEN RESERVED, but you're welcome to bring your own kayak or canoe.  Please call if you would like to be included on the waiting list for park kayaks.  The waiting lists for morning and afternoon are short, so you're likely to get a spot. 
Discover and enjoy the Delaware Canal from a new vantage point – in the water.  This event will start near the General Sullivan Pavilion in the northern section of Washington Crossing Historic Park, River Road, New Hope, 18938.
Delaware Canal State Park Educator Katie Martens will lead the 2-mile paddle, which will venture south to the Bowman's Hill stop gate and then north along the scenic wide-waters toward the town of New Hope.  There will be plenty of wildlife to see and history to experience from the Revolutionary War and Canal eras.
Paddlers may bring their own kayaks or canoes and personal floatation devices, or they may borrow the equipped kayaks that the State Park will have on site.   There will be 16 seats available in 12 single kayaks and 2 tandem kayaks.  They will be reserved on a first-come, first-served basis, so register early for this popular activity.  Registration is required no later than July 23.  Please do so by contacting the Friends at 215-862-2021 or friends@fodc.org.  A $10 donation, payable on the day of the paddle,  is requested if participants use State Park kayaks.
Summer fun on the Canal!