Sunday, August 20 | 10:00 AM - 12:00 PM or 1:00 PM - 3 PM
Theodore Roosevelt Recreation Area
The mule teams didn't have to pull too hard to get canal boats from Easton down to Groundhog Lock. The rush of Lehigh River water entering the Canal provided a good southward current.  That same current will make our August kayakers and canoeists put a bit more oomph into their paddling.  Making our way north might require extra energy, but launching boats at Groundhog Lock is easy. There is a wooden boat launch at the Lock; no muddy banks to scramble up and down.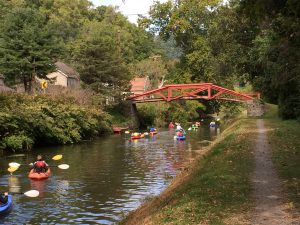 The scenery along the Canal banks in Raubsvillle is lovely, and there are great tales to tell about the lost town of Uhlersville, the hydroelectric plant, and the Easton to Doylestown trolley line.
This late summer adventure will be led by State Park Educator Katie Martens, who will have fully equipped kayaks available to borrow. There are 16 seats available in 12 single kayaks and 2 tandems.  You may reserve a Park kayak or bring your own canoe or kayak and personal flotation device.
Registration is required for this activity.  Please do so early, especially if you're planning to paddle with family and friends. You may sign up by contacting 215-862-2021 or friends@fodc.org.  If you are planning to use Park equipment, a $10 per person donation is requested.
Meet at the Theodore Roosevelt Recreation Area aka Groundhog Lock, 229 South Delaware Drive (Route 611), Easton, PA  18042.  The mailing address is Easton, but Groundhog Lock is located between the towns of Riegelsville and Raubsville.
Paddling on the Canal is cool in more ways than one.