Saturday, August 18, 2018 | 10:00 a.m. - noon or 1:00 - 3:00 p.m.
Theodore Roosevelt Recreation Area
Discover and enjoy the Delaware Canal from a new vantage point – the water.  This event will start at the Theodore Roosevelt Recreation Area (aka Groundhog Lock), 300 Canal Road, Easton, PA 18942.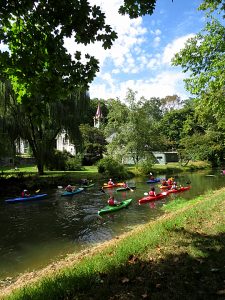 Delaware Canal State Park Educator Katie Martens will lead the paddle, which will head north from the Recreation Area.  The scenery is lovely and there are great tales to tell from the lost town of Uhlersville to the remains of the hydroelectric plant that powered the Easton-to-Doylestown trolley line.
Paddlers may bring their own kayaks or canoes and personal floatation devices, or they may borrow the equipped kayaks that the State Park will have on site.  There will be 16 seats available in 12 single kayaks and 2 tandem kayaks.  They will be reserved on a first-come, first-served basis, so register early for this popular activity.  Registration is required no later than August 6.  Please do so by contacting the Friends at 215-862-2021 or friends@fodc.org.  A $10 donation, payable on the day of the paddle, is requested if participants use State Park kayaks.
Summer fun on the Canal!