Sunday, August 27 | 4:00 PM
Virginia Forrest Recreation Area
Building a canal didn't just entail digging a long ditch; it also required building bridges to reconnect the land that the new ditch divided. When the Delaware Canal was constructed by the Commonwealth of Pennsylvania between 1827 and 1832, more than 100 bridges were included in the project.  Today the Canal still has many of these crossings, and its bridges come in all shapes and sizes.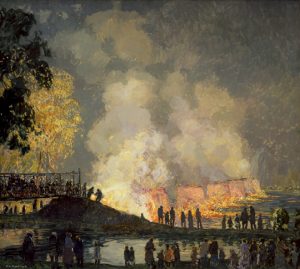 On our 4.4-mile round trip walk between the Virginia Forrest Recreation Area and the Lower Limeport Bridge, we will encounter five different bridges.  The largest will be the Centre Bridge-Stockton Bridge over the Canal and the Delaware River.  The newest will be the newly rehabilitated Lower Limeport Bridge.   All the canal bridges illustrate the ongoing quest to design a structure that both captures the character of the original camelback bridges and can accommodate modern day vehicular use.
The famed Bucks County Impressionist Edward Redfield will play a role in our stories since two of the bridges lead to properties where he and his family lived and the Centre Bridge is the subject of his most dramatic and acclaimed painting.
Get out and about on this informative, late summer afternoon walk and, perhaps, have a good excuse to go out for dinner.
If the weather is stormy, rainy, or just too darned hot, the walk will be cancelled.   For a Go/No Go message, visit our homepage where the information will be posted by 11 a.m. on August 27.
Meet at the Virginia Forrest Recreation Area, 3292 River Road, New Hope, PA  18938.  (1.3 miles north of the intersection of Route 263 and River Road.)