Saturday, March 28 | 10:30 A.M.
Washington Crossing Historic Park Visitor Center Parking Lot,1112 River Road, Washington Crossing, PA (Use large lot located north of the Visitor Center on the west side of River Road.)
Cancelled because of the COVID-19 restrictions.
This year's Lunch and Walk will be a cross-river adventure involving two Washington Crossings and two canals.
We'll begin our tour with a short walk up to the Delaware Canal towpath to get a good view of the adjacent lagoon. What critters will be out and about? Then we'll head east through the village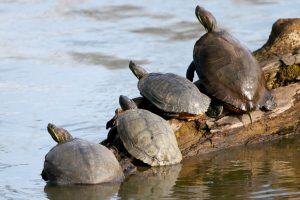 that was once Taylorsville, but now is known as Washington Crossing. By the landmark McKonkey's Tavern and Mahon Taylor House, we'll venture onto the Delaware River bridge that connects Washington Crossing, Pennsylvania with Washington Crossing, New Jersey.
In New Jersey, we'll hike a bit north on the Delaware and Raritan Canal towpath, our sister canal that nearly always has water and  find out why. We will then  re-cross the River bridge and head straight to the historic Washington Crossing Inn, our lunch destination.
Our Washington Crossing Inn Menu
Choose from a selection of gourmet sandwiches including:
Char-Grilled Filet Mignon – Topped with Sautéed Spinach & Fontina Cheese on Italian Bread
Grilled Chicken – Topped with Roasted Red Peppers, Fresh Mozzarella & Basil on Focaccia Bread
Grilled Portobello Mushroom – Topped with Roasted Zucchini, Peppers, Squash, Onions & Fresh Mozzarella on Focaccia Bread
Lunch also includes a Garden Salad and Bliss Potato Salad along with coffee, tea, or soda.
After lunch, we'll walk back to the parking lot and have some homemade cookies along the way.
Donation:  $30 per person.
Reservations are required no later than March 20th. Please call 215- 862-2021, email  friends@fodc.org, or use the form below to reserve online.
If it is snowing or raining, we won't be walking, but we will meet at the Washington Crossing Inn at noon for lunch and lively conversation.