Saturday, March 25, 2017 | 10:30 AM
Lumberville General Store
It's been a long time since we've had a Lunch and Walk in the central section of the Canal, so this year we're starting at Mile Marker 29, as close as you can park to the middle of the Canal's 58.9-mile length.
Our four-mile walk will take use from the Virginia Forrest Recreation Area and nearby Hendrick Island to the Lumberville General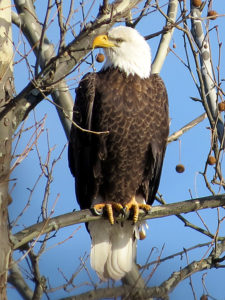 Store and back. There are lots of stories to be told along the way. Did you now that the Park Recreation Area is named after a woman who was honored for her efforts to conserve not only the Canal, but also the American Bald Eagle? This honor seems so appropriate now that there is an abundance of eagles living along this stretch of the Canal and River. We may be able to see bald eagles nesting, so don't forget your binoculars.
We'll find out about the Cuttalossa Valley, which once hummed (and smoked and creaked) with industry, but now is one of the most beautiful spots in Bucks County. In Lumberville, the tales of lumbering and illustrious residents will be told.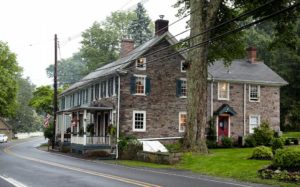 After checking out reconstructed Lock 12, we'll head to the historic Lumberville General Store for lunch.  Choose from a selection of soups, sandwiches and salads.
After lunch, we will venture out onto the pedestrian bridge over the River, then head south on the towpath to our starting point.
Lunch and Walk Donation – $25 per person.
Reservations are required. Please make them early because seating is limited. Call 215-862-2021 or e-mail friends@fodc.org no later than March 17. If it is snowing or raining, we won't be walking, but we will meet at the General Store at noon for lunch and lively conversation.
Meet at the Virginia Forrest Recreation Area, 3292 River Road (PA Route 32), New Hope, PA 18938. (1.3 miles north of Centre Bridge.)